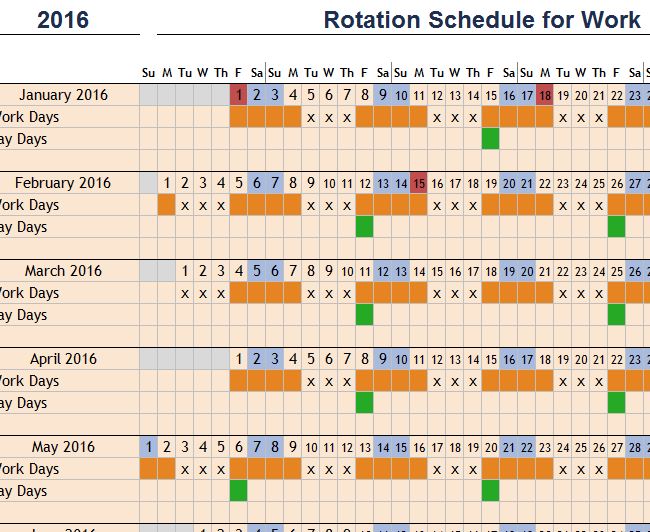 You can now have all your employees in one basket by using the free Rotation Schedule for Work. Just as the title indicates, this template calculates shift rotations for a fair and even shift between any numbers of employees that you may have. Normally, this would be a nightmare to think up and create on your own; you may even get it wrong after spending hours scheduling. This Rotation Schedule was designed in such a way that all you need to do is enter in some key information and you'll have exactly what you need to start posting your employee work hours on the board. To get started, just read the instructions given below.
Rotation Schedule for Work Manual
After you have successfully downloaded this free Rotation Schedule by clicking the link at the bottom of this page, you will begin by entering the required information at the top of your screen.
You will enter the current year, month, and start date in the corresponding cells. The section to the right of the date is for creating the parameters of your schedule rotation calculator.
You will then choose the pattern of work days, the number of shifts, and the number of days the employee will have off after their rotation ends. Then just select the starting date you want this rotation to take effect within your schedule.
There is also a section for the period of paydays and a space to choose the start of this as well so you employees will know when they are to receive pay.
After you have entered this information into the section at the top of your screen, you will see your choices take effect in the main table below. The workdays of your employees will be highlighted in orange (with days off "X'd" out) and their paydays will be displayed below in green.
Now you can plan your employee work schedule with the perfect shift rotation calculator.
Download: Rotation Schedule for Work
X
Your free template will download in
5 seconds
.
Check out this offer while you wait!