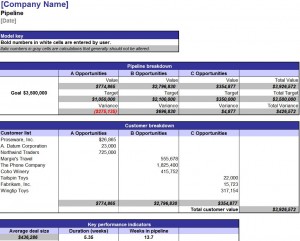 Sales don't just happen automatically; they need to be pursued. So being able to track and realize which team members or sales teams are performing the best and vice versa are critical. Unfortunately, tracking is easier said than done. Without a good framework with which to capture the right data, personnel or team effectiveness disappears in ambiguity.
The Sales Effectiveness Survey Offers A Simple Solution
The provided Sales Effectiveness Survey template gives a business an effective tool with which to survey and measure sales effectiveness as it occurs. While there are plenty of computer models that can crunch trends after the fact, they won't do much good if the important sales performance information isn't caught up front on a consistent basis.
With sales effectiveness survey template, a business can tracking all the key factors needed to quickly see where a representative or team is in comparison to peers as well as competition. Take that data and feed it into a database for trend-crunching, and now the business has powerful statistics for decision-making and direction.
Further, the beauty of the Sales Effectiveness Survey template is that it is already designed and complete. It can be customized further for specific needs or just used as-is. Just start using the form and compile the reports on a regular basis. Then, by taking the information and putting into a simple consolidation format, like a spreadsheet, the data can begin to tell a valuable story about your sales performance.
How to Use the Sales Effectiveness Survey Document
First, download the template on this page. Then save it to your computer for easy access through Excel.
Second, create a new file by opening up the new template as a new file and then saving it under a different name versus a template. This separates the file you're working on from the template itself.
Third, begin tailoring the file by adding in the necessary business information. From their goal data, opportunity figures, customer lists, and performance indicators can all be inputted and tracked.
Fourth, repeat the process of using the form on a regular basis so the information captured can be used on a historical basis versus just a snapshot basis.
Once the Sales Effectiveness Survey form becomes familiar, its benefits can become expanded with further customization. However, consistent data collect is needed to obtain the best value. Otherwise, just filling out the form once only provides a momentary snapshot.
Download: Sales Effectiveness Survey
X
Your free template will download in
5 seconds
.
Check out this offer while you wait!