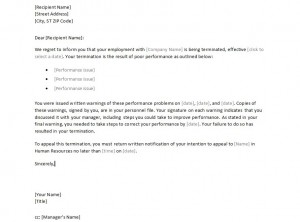 Terminating an employee is a process that must be handled in an appropriate manner. It requires documentation as well as a conscientious effort to document all problems with employee performance, actions taken against the employee, and the employee's subsequent improvement or lack of improvement as well as any other major incidents or infractions that reflect badly on the employee. When it comes time to actually terminate an employee, it is very helpful for you, as the employee's supervisor, to have a streamlined form that can help to make termination a smooth process. The sample employee termination letter can help.
How to Use the Sample Employee Termination Letter
All information needed to formulate an employee's termination letter can be included on one template. To complete this form, which is in Microsoft Word, begin by including the name and address of the company terminating the employee and the date, which as shown in the template, is in the upper right-hand side. Next add the name and address of the employee to be terminated. Next, work on the body of the sample employee termination letter, which should be a professionally written and concise statement that the recipient is being terminated and an explanation about why this action is being taken.
This will require facts such as performance issues and dates on which the employee was given written warnings regarding these examples of poor performance. On this sample employee termination letter, there is also a date to be included by which the employee's performance was supposed to improve, a standard that was not met. Finally, in the body, there is a section to include specific information about how to appeal the termination. At the end of the letter, there is a place to add the supervisor's name and title, a signature, and a list of the other company employees and departments who are to receive a copy of the letter as well. You can easily download the sample employee termination letter on this page. It is free, customizable, and easy-to-use in Microsoft Word format.
Tips for Using the Sample Employee Termination Letter
Make sure all dates are correct and match previous documentation of employee performance issues.
Make sure performance issues and all other information about the specific employee and his/her performance problems are accurate and had been previously discussed with the employee and documented.
Modify the form as needed to suit the needs of your company and specific employee termination; some employees, for example, might be terminated because, instead of inadequate performance, they broke company rules or had altercations with other employees or with management. All parts may be modified as needed.
Ensure that the employee actually receives the letter.
Download: Sample Employee Termination Letter
X
Your free template will download in
5 seconds
.
Check out this offer while you wait!