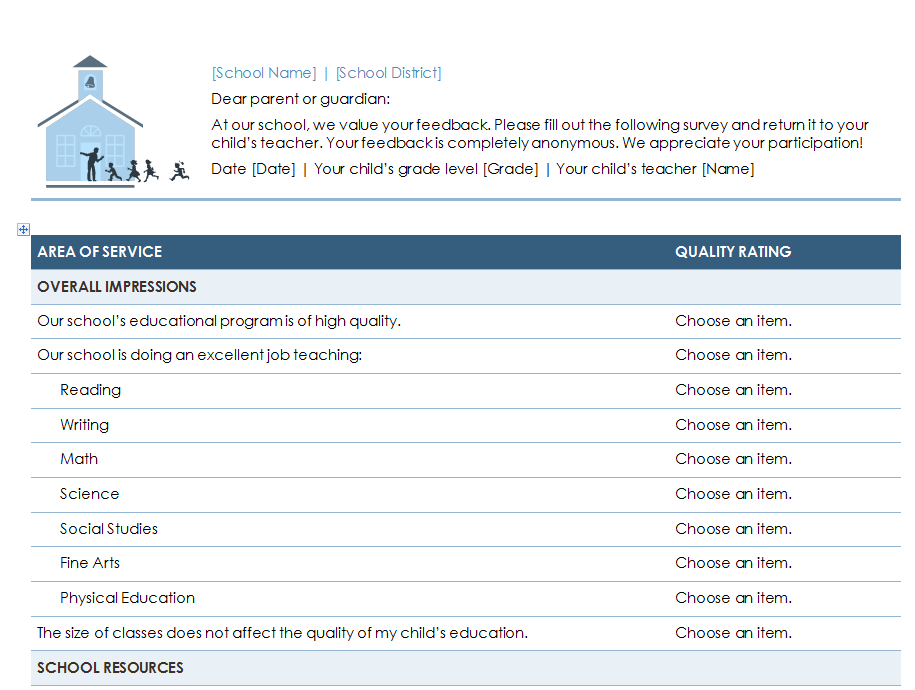 The best way for any business to improve is through utilizing consumer feedback and implementing changes to reflect their requests. Schools are no different – a parent's evaluation of the school's job is imperative to improvement. The School Feedback Survey Template is a simple document for parents to rate a school's performance and what improvements could be made.
How to use the School Feedback Survey Template
Download the template using the link below and open it into Word. If the school has not already filled out the top portion regarding the name of the school and the district, fill that out before completing the date, grade level, and teacher's name fields.
Moving below, the survey is organized for you to rate each portion by click on "Choose an item" under quality rating in each row. Once you click the "Choose an item", you'll have options of 1 to 5 (Strongly Agree to Strongly Disagree) and an option 6 which is "I don't know" or neutral.
Read through each row and select your rating for the indicated portion. At the very end, there is a space left open for additional comments to be added. Note that you or your child's names are not on the sheet so you can remain anonymous.
Tips for using the School Feedback Survey Template
Read each portion carefully. They are not phrased as questions, but as statements for you to agree or disagree with. Read them as opinions, and rate them as an opinion you agree or disagree with.
Choose "Neutral" or "I don't know" for items that don't apply to you to avoid skewing the school's results.
Involve your child or children as you fill out the survey. Ask how they feel about certain aspects, such as the questions regarding the school's cleanliness. The child will likely know better than you about the internal school workings.
Download the School Feedback Survey Template
X
Your free template will download in
5 seconds
.
Check out this offer while you wait!