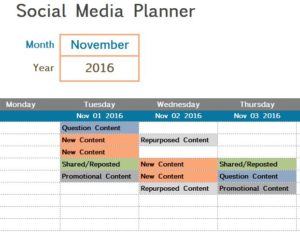 If I told you there was a way to plan your social media posts in a way that's comfortable, fast, and simple, would you be Pinterested? The free Social Media Planner is your new window into the world of social sharing, as you meticulously create a schedule that works for you.
This template allows you to enter the material you need to boost your social platform, whatever that may be! The document has a space to organize your posts, not only by date but by content category as well. So, whether you're tweeting about the latest political fiasco or you simply want to upload a photo to Instagram of your latest meal masterpiece, this template has just what you need to succeed.
Getting to Know the Social Media Planner
To download and use the free Social Media Planner, just follow the link at the bottom of this page.
At the top of your opened document, you'll find a drop-down selection cell to choose both the month and the current year. Once you've chosen the date, you can proceed to the main table and start entering your items.
The structure of the Social Media Planner is pretty simple. You have the days of the week at the top and the legend that explains what the color-coordinated items mean.
Start by changing the categories in the first column of the template. We've given you a few good examples, but don't let that stifle your creativity. Choose topics and categories that you commonly use for your unique social presence.
When you have an idea for your next post, you'll simply find the date to post it and you use the drop-down menus (available in all cells of the template) to choose the category that post falls under.
Once you have all your posts scheduled for the near future, you can rest easy knowing all your posts are just waiting to be written. This schedule will be clearly displayed on one screen.
Download: Social Media Planner
X
Your free template will download in
5 seconds
.
Check out this offer while you wait!