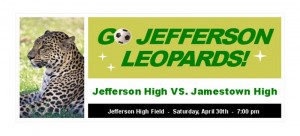 As parents, we want to support our children in all of their endeavors. This means that when they play sports, we show up, rain or shine and cheer them on until we're hoarse. If you have some artistic flair, you could even make a sports banner or sign: something that your child can see from anywhere on the field, and know that you're there to support them. These banners sometimes cost quite a lot of money to have printed, and require an artistic talent that, let's be honest, most of us lack. With modern computers and printers, though, anyone can make such a banner, and at a fraction of the cost you paid even five years ago.
Using the Sports Banner Template
The secret to this new process of creating a Sports Banner is a template. You can download it here for free, and it only takes a few customization steps to create a clean and professional looking banner. Templates are incredibly easy to use, and they're compatible with all the major productivity suites; they download to your computer as just another file: you open it up with a few clicks, and make whatever changes you need.
Templates are almost infinitely customizable, and can fit any sport from Baseball through Soccer and Track & Field sports. No matter what your child's passion, you'll find a template that can show how much you love them and how you'll always support them. With a well made, high quality template, you always get access to documentation. If there's something you don't understand, or something you want to do but aren't quite sure how, that documentation will help you along as a clear, easy to understand friend.
Once you have your sports banner template, you'll be able to show your child how much you want to support and push them in the most creative of ways. You can express your personality through your designs, and even incorporate your child's favorite things into it. The possibilities are endless, and all it takes is a well made template, some software on the computer you already have, and a printer. Those three ingredients, with your own creativity and memories, can create the ultimate sports banner.
Download: Sports Banner
X
Your free template will download in
5 seconds
.
Check out this offer while you wait!