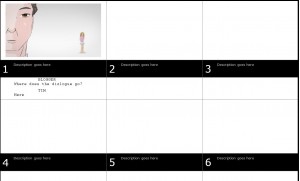 From some of the most epic, captivating and visually stunning summer blockbusters to short Saturday morning cartoons, every motion picture begins as a series of simple storyboards. Meticulously and with the utmost care, each individual frame is measured by parameters, assessed for color and placement, and improved for story coherence and flow. But for every high-dollar, highly talented Hollywood producer and art director, there are thousands of energetic aspiring movie-enthusiasts crafting compelling storyboards for future moving pictures. And now – MyExcelTemplates.com, an industry leader for downloadable, FREE templates – is offering the Storyboard Template for Microsoft Word for aspiring movie art directors to easily download, acquire and use.
Primary Benefits to Downloading the Storyboard Template for Microsoft Word
As a series of simple, cohesive boxes, the Storyboard Template Word offers a vehicle for users to map, assess and measure a future motion picture. However, there are a few benefits unique to the download we offer at MyExcelTemplates.com:
The Storyboard Template Word is FREE of charge. Just because you're not raking in a multi-million Hollywood producer salary doesn't mean you have to skimp on effectiveness with your storyboards. Print out two, three or ten to complete your motion picture magic.
The Storyboard Template Word is completely customizable. Although the Storyboard Template Word comes package with a pre-made size and color scheme, artists will enjoy the interchangeable nature Microsoft Word allows its users.
The Storyboard Template Word can be easily duplicated. Depending on the length of your future motion picture, several copies of the Storyboard Template Word might be required. Again, the template is free of charge, making the cost of duplicating templates hardly an issue whatsoever.
3 Tips When Storytelling with Storyboards
Originated by the late – and great – Walt Disney in the early 1930s, storyboards have long been an effective format for concisely mapping and measuring the future success of a motion picture. Here are a few key components to keep in mind when storytelling with the Storyboard Template for Microsoft Word.
Don't leave anything out. Although it might seem like a time-consuming project, using storyboards are completely necessary. It will act as graphic visuals/illustrations displayed in sequence for an intended motion picture. Although the frames move at an incredibly high speed in the motion picture itself, the care you put into each frame can make a huge impact.
Consider timing. Although it can be easy to overlook necessary frames and motions in a regular movie, using storyboards will allow you to dissect each individual frame for its amount of timing.
Define technical parameters. Defining the technical aspects to a piece of film will be crucial to producing the most optimized final product.
Download:Storyboard Template Word
X
Your free template will download in
5 seconds
.
Check out this offer while you wait!