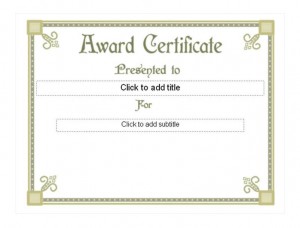 Receiving an award certificate as a child is a memorable experience that can be remembered throughout life. Making an award to give them will be no problem at all when you use this Student Award Template. Here is a very short introduction on how to use this template and some tips on how to customize it.
How to Use the Student Award Template
When you have completed the download, open up the file. PowerPoint 2003 should show you the basic outline of the award that you are going to finish creating. Only two fields need text replaced. The first, Click to add title, can be changed to the name of the recipient of the award. The second, Click to add subtitle can be changed to a description of why the individual is receiving the award. State why this candidate was chosen over the others and what accomplishments they had to make to get to the point that they are today. Once you have completed filling out that information, you are done editing your Award Certificate Template and ready to print it out.
Tips for Using the Student Award Template
If you want to add some more things to your Student Award Template, now is the time. Think about putting the logo of the individuals who are presenting the award on the left and right side in the middle. If this award is for a younger child, it is a nice touch to add a picture of the student at the bottom of the document in the middle. If you have access to the tools to laminate this award, you should do so. It will lengthen the life of the award so it can be on display for a long, long time. Make sure you praise the student for what they did to receive the award and let all the other students know exactly why they received such a prestigious award.
The Student Award Template can go from start to finish in a matter of minutes. It is so incredibly easy to customize. Download it here and use it to honor the individuals who stand out in the crowd.
Download: Student Award Template
X
Your free template will download in
5 seconds
.
Check out this offer while you wait!