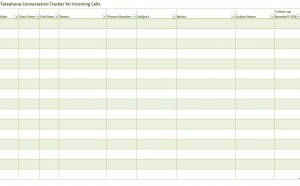 Organizations make and receive dozens of phone calls each day. Keeping track of incoming and outgoing calls and which require follow-up is not something that you want to try to keep in your head. Having a handy reference sheet of all phone calls you make or get can help you close an important deal or ward off an unpleasant customer service situation. Use this telephone conversation tracker template to organize all your organization's phone calls.
How to Use the Telephone Conversation Tracker Template
This free telephone conversation tracker template is easy to use. Download it straight from this site, and customize it to fit your needs. It is a clean, simple way to manage your organizations phone calls.
Insert your name or organization at the top of the tracker. Include your organization's logo to further customize it.
As you make or receive phone calls, toggle between the "Calls In" and "Calls Out" sheets in the Excel template.
Note date, call start and end times, name, numbers, call subjects, important information discussed, what actions you need to take and whether you should follow-up.
Save the file to your computer, cloud, flash drive, or email it to yourself to ensure you have access to it even if you are away from the office.
Tips for Using the Telephone Conversation Tracker Template
Diligently record all phone calls you make or receive in the template.
Change the template to be an email tracker if that is how you generally conduct your business.
Update whether you followed up on each call that required you to do so.
Save the file with the week or month in the file name so that you can quickly access it later.
Consider adding a "Resources Needed" column next to the "Action Items" column. This will help ensure that you carefully think through all of the details of what you need to do to successfully bring each call to a final close.
Check each template on a regular basis to be sure that you did not forget any action items.
The telephone conversation tracker template is applicable to almost any industry. It is especially useful for sales. Non-profits could also use it to help keep track of donors. The template is also attractive for more domestic purposes like planning parties or dealing with insurance claims. Having a record of each call helps reduce or eliminate disputes and helps you provide personal attention to each client.
Download: Telephone Conversation Tracker
X
Your free template will download in
5 seconds
.
Check out this offer while you wait!