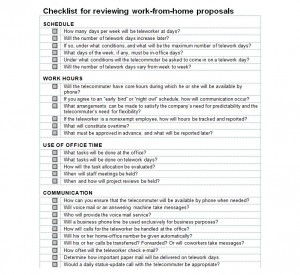 The teleworkers checklist can help you establish a clear game plan with an employee. Download and print the teleworkers checklist from Microsoft for free. Just click on the link located on this page to begin!
Using the Teleworkers Checklist
The Teleworkers Checklist should begin with establishing a set schedule. Keep in mind that the schedule should be set up in one of two ways. The first way that should be considered is learning the job in office first. Then taper the work into a telework schedule. If in office meetings are going to be needed, how set how often the in-office days should be in advance.
The second way that should be considered is if the telework will be continuous. If so, be sure to state what under what conditions the teleworker would be asked to come in on a regular scheduled telework day.
Teleworkers Checklist: Discuss Work Hours
When deciding work hours for a Teleworkers Checklist, arranging the set up can be challenging. Understand that some telecommuters are looking for a flexible schedule if it is available to them. Be sure to know what work needs to be done during what hours before deciding this schedule. If the teleworker is looking for a non-traditional set of work hours, discuss how you will be communicating with them.
Also be sure to establish a set of rules on reporting their working hours according to their work. How many hours the employee is willing to work will also determine when they need to work to create a predictable schedule that will stratify the company as well.
Teleworkers Checklist: In-Office Time
If in-office time is a priority on your Teleworkers Checklist, be sure to note important events, like staff meetings. Be sure to mentions how and when project reviews of the work done will be handled. If special in-office time is needed for particular projects, consider how it will after the regularly scheduled teleworker's schedule.
Teleworkers Checklist: Communication with Your Teleworker
One the last and most important things you need on your Teleworkers Checklist is a clear expectation of how you and your telecommuter will communicate with you and the in-office personnel. If your teleworker needs to be available by phone, come up with a consistent time frame that is agreeable with both parties. If e-mail is being used for communication, set expectations on how often the e-mail needs to be checked. Finally, determine if a daily status check call would be prudent in the teleworker's routine.
Download: Teleworkers Checklist
X
Your free template will download in
5 seconds
.
Check out this offer while you wait!