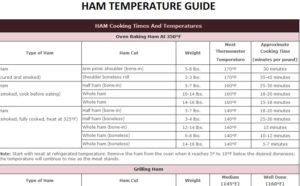 Your guide to the perfect ham, the free Temperature Guide template is a free template tells you exactly what temperature to cook any amount of ham, turkey, pork, and more. This free template is just a simple Excel sheet that separates the cuts of meat with the temperatures you need to cook it. The document even gives you instructions on how to cook your meat on the grill or bake it as well. Whether you're making turkey for Christmas or you love to dine on some swine all year long, the free Temperature Guide Template is the perfect tool to cook ham, lamb, beef or whenever you want.
How to Use the Temperature Guide Template
To download this free template document, just follow the link that we have provided at the bottom of this page.
Simply choose the type of meat you want and select the appropriate link from the list of options. You can also download all of them.
The next step will be to print the sheet for your personal use. This way, you can store the sheet in a convenient spot in your home.
To print the sheet, got to the top of your screen and in the upper-left-hand corner of the page, click the "File" tab. When you are given a list of options from the drop-down menu, choose the "Print" option from this selection. This will give you the print options menu to choose the setting you want for this document.
The directions say to preheat your oven to 350 degrees, from there, there is section for different types of meat, different cuts, and weights. Just choose the ones that you will be working with and scan over in the same row to find the temperature you need for your dish.
Below this first section, you will find a similar list of instructions for grilling and bake the meat as well. Just follow the same set of instructions as above to use these different cooking options as well.
Download: chicken-temperature-guide
X
Your free template will download in
5 seconds
.
Check out this offer while you wait!