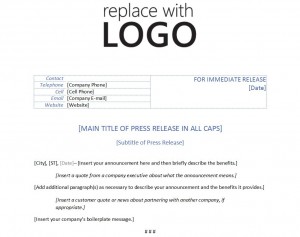 Organizations of any and all types often utilize press releases as a viable way to spread vital information across various news and media outlets. While some may take the time consuming route of originating each press release one by one, those efficient in public relations use a template for press release needs. Instead of recreating the wheel each time a piece of news or information needs to be spread, use this customizable, easy to use, free downloadable template available here.
How to Use the Template For Press Release
First, simply download the template and save to a desired location on your computer (for current and future use)
Next, merely click on the pre-formatted boxes and fill them in with your press release's vital information
Lastly, save the newly filled out press release accordingly – it's that simple!
Why Use A Template For Press Releases?
This template uses a formal, proper press release format considered industry standard – making the ability to make official announcements simple, elegant, and effective for use with any press release. This template for press release takes any guesswork out of the equation while also ensuring the announcement includes all necessary information any outlet will need upon its reception.
Furthermore, this particular template for press release comes as a Microsoft friendly format, leaving any compatibility issues or guesswork out of the equation when time is of the essence in releasing critical information in the timeliest manner possible.
Other pleasant advantages of this free template for press release are the ability to easily place your organization's logo in place, as well as having many options for the user to customize (such as fonts and format).
So, when the release of crucial information is necessary – be sure to use this free, simple, downloadable template for press release here to make sure it's done properly, in a timely manner, and with ease. Those with public relations experience will confirm having a ready-to-use template for release of critical information leaves no room for error in making sure your organization's announcements are spread efficiently and effectively.
Be sure to download this free template for press release here for any future announcements!
Download: Template For Press Release
X
Your free template will download in
5 seconds
.
Check out this offer while you wait!