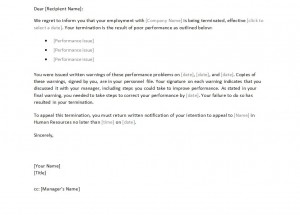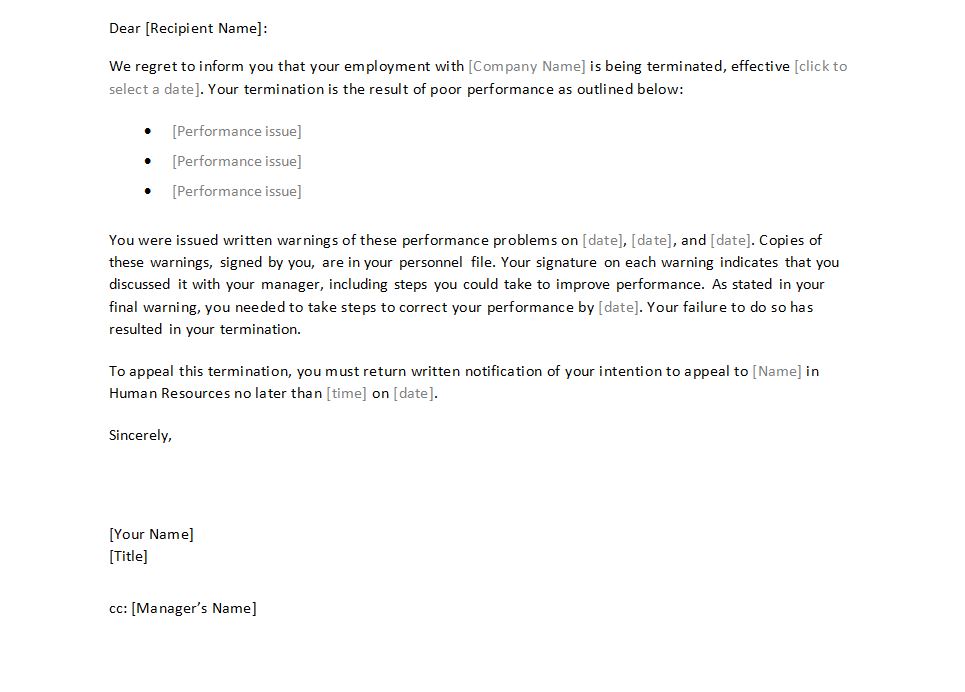 A company operates in order to make a profit, and if a particular employee is not living up to their expectations they may need to be terminated or fired. If this is the case, having a template for a Termination Letter to Employee would be extremely useful and efficient. This makes it imperative to get access to such a document by downloading it online so they can customize it to their own needs.
Downloading the free Termination Letter to Employee template gives a company the ability to fire an employee in writing simply and easily. A company can customize the template as needed and then have a perfect record of the firing.
How to Use the Termination Letter to Employee Template
First, the spaces for the specific company's information has to be filled in, along with the employee's name, job, date hired, etc.
Second, fill in the spaces to show things like the reason for the termination, the conditions of the termination, etc.
Third, fill out any remaining data that may be needed such as filling in any remaining salary owed to the terminated employee, adding a place for them to sign that they understand the reasons and circumstances of the termination, and a place for their boss to sign.
Tips for Using the Termination Letter to Employee Template
First, this template is possibly the sole document that lists the facts and reasons that the person is being fired. For that reason it is a vital document and a copy should be made for legal purposes.
Second, make sure that there are no spelling errors or other errors on the document since these could be exploited by a disgruntled fired employee and used against the company.
Third, it could be a good idea to get the finished document certified to make it an official document in case there is a question in the future.
The bottom line is that like it or not, all businesses must fire employees from time to time. Using a Termination Letter to Employee Template makes this process faster, easier, and more efficient due to making it uniform every time.
Download: Termination Letter to Employee
X
Your free template will download in
5 seconds
.
Check out this offer while you wait!