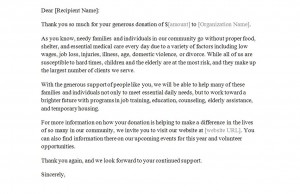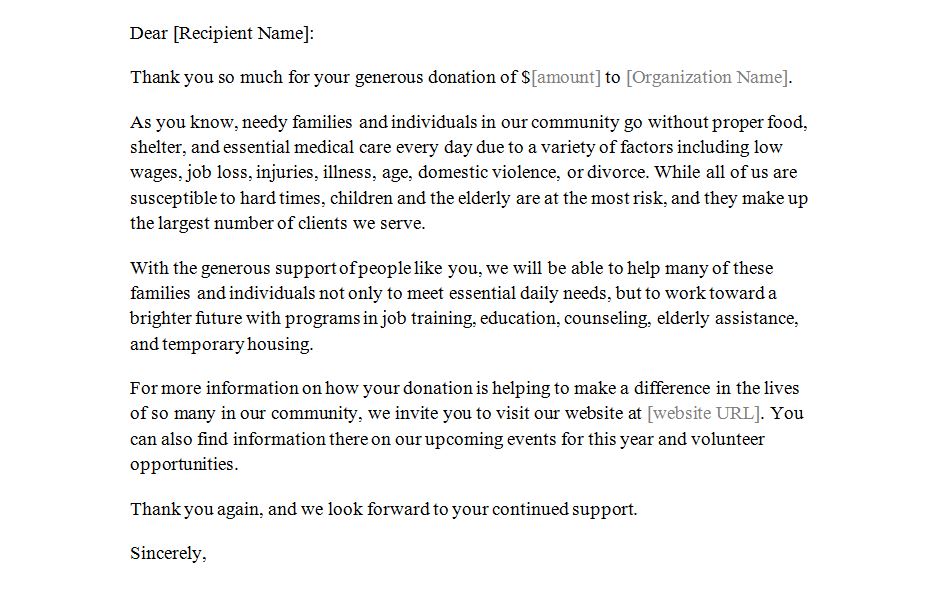 Donations can sometimes be hard to procure; so it is important to thank any and all of your donors. A "Thank you for your donation letter" gives your donor a sense of pride and gives you a professional image. The best way to ensure this image is by using a customizable template that has the basic formatting already done. This allows you to have a clean, professional look.
How to Use the Thank You for Your Donation Letter Template
First download the template from this page.
Fill in your information where it tells you. This includes your name, address, city and zip code, and the date.
Fill in the recipient information
Fill in the appropriate title for your recipient (how you address them, such as Dear sir)
Fill in the donation amount and your organization name.
Update the body of the text to reflect your organization and what their donation is going to help to do. Include web URL if applicable.
Fill in your Name and title after the sincerely
Advantages to the Thank You for Your Donation Letter Template
The template is available completely free on this page!
The template is customizable to suit your organization's needs.
The template is extremely easy to use.
The template is easily downloadable.
The template already has all the formatting done for you. You need only to give it your organization's touch
Tips for Using the Thank You for Your Donation Letter Template
Add something unique to you. The template gives you the format and the ideas, but put something in there that is your own. Saying how much you truly appreciate their time, as well as their donation, goes a long way.
Use their donation to your benefit in the letter. Make sure you tell them why their donation was so valuable.
Make each letter unique to each donor. Don't write it in a way that makes it sound like you send the same thing to everyone. Customize it (that's what it is for!) and give each donor the time they deserve.
Not everyone "has" to give you a donation. A "Thank you for your donation Letter" is the perfect way to show your appreciation, and help put your organization's best foot forward.
Download: Thank You for Your Donation Letter Template
X
Your free template will download in
5 seconds
.
Check out this offer while you wait!