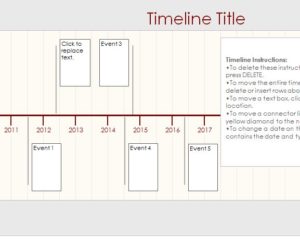 The Timeline Template Sheet is a professional document that helps you plan the most efficient course of action when it comes to your goals. The structure of the template follows a straightforward design that allows you to enter all the tasks associated with your end goal. Planning is often the most difficult part of achieving a goal if you think about it. Actually taking the time to hammer out the details is what consumes most of your time. Wouldn't it be nice to have a document that clearly lays out all this information for you? Well, that's exactly where the Timeline Template Sheet comes into play.
How to Use the Timeline Template Sheet
You will either read the instructions provided in the template or give the instructions below a read.
Next, go through and change all the dates on the timeline to coincide with your own project. You can also move the entire timeline up or down on the page as well as delete or insert rows above the timeline title.
If you need to move any of the text boxes you will simply click on the box and drag it to the location of your choosing. This way, you can keep the dates aligned with that task's information.
You can also move the connector lines in a similar fashion just click the line and a yellow diamond will appear at both ends. You will then click the yellow diamond and drag the line wherever you need.
Think about the various elements that will go into your goal. You can easily break them down into separates parts, making the whole process much easier. These parts are what you will enter in the timeline.
As you approach a new task on the template you will know exactly what needs to be accomplished and by when.
Don't let a complicated task get in your way, use this template to divide and conquer.
Download: Timeline Template Sheet
X
Your free template will download in
5 seconds
.
Check out this offer while you wait!