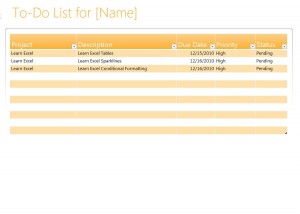 Everyone has a to do checklist; whether it's for the daily start up at work or making plans for a trip, writing down a list of what tasks must be done helps people organize jobs more efficiently. However, there's no reason to do things the old fashioned way if someone doesn't have to. That is where the to do checklist template comes in handy.
What is the To Do Checklist Template?
This template is a simple Microsoft Excel document which allows an individual to make his or her own checklist of tasks that have to be completed. Simply follow the link provided and save the checklist template onto a computer. Once it's been downloaded, open the document and click "Save As". Give it a memorable name like "Our Galaxy School Project Shopping List".
Once the name has been assigned the file will officially exist, and the user can fill in all of the data in the lines provided. This helps people plan their endeavors, and it can help keep people from forgetting critical needs when they're out in the field.
You Can Take the To Do Checklist With You
While using a computer for a simple to do checklist might feel like overkill to some people, there are several advantages to using technology to get the job done. The first is that there's never any debate about what a given word says because of handwriting, which can be a distinct advantage. Additionally, if one doesn't want to print out a list, it's possible to just take with on any mobile device that person owns.
Whether it's a tablet or a smartphone, mobile devices can easily access a simple spreadsheet. All one has to to is put the file onto the device, and then whenever an item gets checked off the list update that copy accordingly. Alternatively, there's nothing that says someone can't just download the checklist template onto a mobile device in the first place. After all, this to do checklist template is free to all, and there's no limit as to how many times someone can download it. So even if someone already downloaded it once and the file got lost, misplaced, corrupted, deleted, or otherwise eliminated, all that person has to do is re-download a copy and re-name it what he or she wants. It really is that easy.
So why wait any longer? Why not try it for yourself today?
Download: To Do Checklist
X
Your free template will download in
5 seconds
.
Check out this offer while you wait!