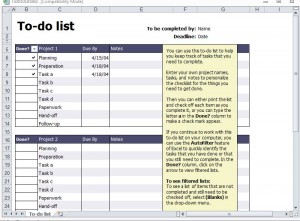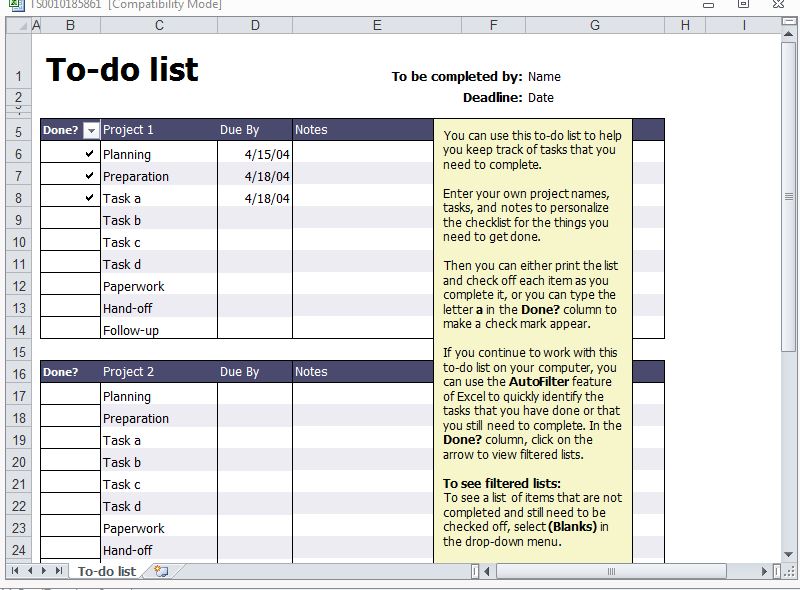 Life can be complicated and it is easy to get overwhelmed by the amount of tasks you have before you. The best way to get organized and reduce your stress is to create a comprehensive to do list and break your goals down into smaller pieces. The Microsoft Office customizable to do list template can help you to get started!
Unlike other to do list templates you have to purchase online, the Microsoft Office template is free and completely customizable in Excel. By allowing you to break your bigger goals into smaller, more manageable pieces, this free to do list template can help you to see all the tasks before you without making you feel overwhelmed. The downloadable template is very easy to use and customize, so you can use it to fit your specific needs. Whether for business uses or personal use, this template can help you to organize and prioritize the projects you need to complete.
How to Use the To Do List Template
Create separate checklists and project titles for your larger projects.
Create a list of smaller tasks involved for each project and list them along with their due dates in the template.
You can also add any important notes along with the tasks listed in each project to help you remember important details.
The ability to organize and sort tasks based on their due dates or their status gives this a step above other to do list templates. When you have finished creating your project spreadsheet, you can either print your to do list, or keep it on the computer and continue using the Excel options, such as sorting and filtering. You can check off your tasks as your complete them, allowing you to see the progress that you are making on your various projects. You can also sort your remaining tasks and projects by due dates or to see which tasks still need to be completed.
This free To Do List template stands above the rest in usability, and provides users with a customizable way to get themselves organized and start breaking down their massive to do lists!
Download for Microsoft Office To Do List Template: To Do List Template
X
Your free template will download in
5 seconds
.
Check out this offer while you wait!