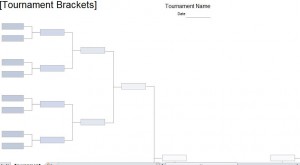 March Madness has made tournament brackets common knowledge. Everyone knows what a sports bracket is, however, creating your own bracket may be a little daunting at times. Sports directors need an easy-to-use bracket to slot teams for the tournament. Sports fans desire brackets to keep up with the latest playoff games. Neither group wants to waste time creating a new document for every tournament. If only there was a tournament bracket template accessible to the common sports enthusiast or tournament director. There is.
A customizable blank tournament bracket template is just a click way. The Microsoft Word template offers tournament directors and fans a simple solution for their bracket needs. The tournament brackets template is free to download providing an easy way to generate a professional looking bracket in just a few short steps. This product will eliminate the need for creating a new template for each situation.
How to Use the Tournament Bracket Template
First, save the blank tournament bracket template to your desktop. Having a blank copy handy will eliminate the need to continually download the document.
Second, fill in the customizable tournament name and date in the center of the document. After you have entered the specifics, save the bracket under the tournament name for future reference.
Third, customize the bracket for the amount of participants in the tournament.
Fourth, enter the teams into the editable tournament brackets template.
Tips for Using the Tournament Bracket Template
Since each tournament is different. By customizing the blank tournament bracket template for different amount of teams the process is simplified for the future.
Saving the completed tournament brackets template under the tournament name provides a handy reference when planning a new tournament.
For the sports fan, nothing beats bragging rights. Possessing a completed bracket adds emphasis when bragging about the latest championship.
Every tournament director has a multitude of details to juggle while planning a tournament. Eliminate one of those details. Every sports fan loves to track the latest playoff. Simplify the tracking process. Use this bracket template Word document and get back to enjoying the games!
Download the Tournament Bracket Template from Microsoft Office: Tournament Bracket Template
X
Your free template will download in
5 seconds
.
Check out this offer while you wait!