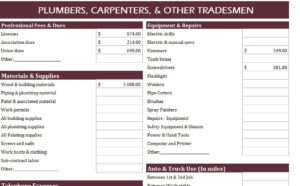 The free Tradesman Expense Calculator can help you figure out the cost of starting your own trade business. Whether you're a plumber, a carpenter, or a piano tuner, you can have the tools you need to develop your business and understand the various costs associated with it.
Using this free tool, you can develop a great financial report to present for your initial loan. Afterward, you can develop your prices based on your costs.
This free document will serve as the first step to making your dreams come true as you successfully start your own business.
To get started, you can download the free template by following the given list of instructions below.
Using the Tradesman Expense Calculator
To download the free template document, you can follow the link at the bottom of this page.
Next, go ahead and follow the set of instructions given below:
You will start by entering and professional fees and dues at the top. You will then continue to work your way down the list, accounting for the materials and supplies you'll use, communication expenses, certifications, vehicles, and much more.
You can also choose to change any of the items on this list by clicking the cell you want to change and writing something new to replace it.
Once you enter the dollar amounts to all the items, you can proceed to the bottom of the page to get your final total.
This total should give you a rough idea about the cost of starting your own trade business.
When you finish the template, you should move onto printing this document for any loan needs. To print the sheet, simply click "File" then "Print" at the very top of the page.
The free Tradesman Expense Calculator is the best tool to help you get your business going.
Download: Tradesman Expense Calculator
X
Your free template will download in
5 seconds
.
Check out this offer while you wait!