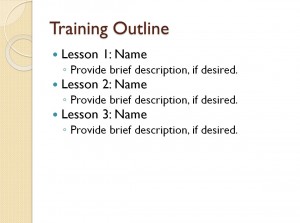 Giving a Training Presentation can be a daunting task for even the most skilled presenter. When providing training it is absolutely necessary to have a coherent format and engage the audience so that they retain the information that needs to be passed on.
Too much "fluff" in a presentation can distract from the essential information. An unorganized presentation can lead to miscommunication or information being left out. One simple solution is to use a Training Presentation template to guide the presentation. This will ensure the critical information gets passed on in a manner that is best for the retention of the participants.
How to Use the Training Presentation Template
First, download the free template and save it to your computer. Then, put the title of the presentation on the first slide and put your name under it.
The Training Presentation template is very easy to use. It provides a guide for each individual section and all the user has to do is enter in the necessary information.
Begin by giving putting a short introduction of the company or individual on the "Introduction" slide.
Then, simply use the customizable "Training Outline" to give a brief description of what participants will see throughout the training.
Next, each module has three components: "Objectives, Content, and Wrap up". Just fill in the necessary information for each component and the result will be a clearly articulated message.
Finally, the easy to use template provides a "Summary of Training" and "Evaluation of Training" slide to wrap up necessary information and learn from your audience.
Tips for a More Effective Training Presentation
Experiment with different backgrounds and colors for the most eye pleasing presentation. Make sure you choose colors which will show up during presentation.
Make sure to provide a good summary at the end. This will help participants remember information from throughout the presentation.
You might want to print off a copy of the presentation for participants to take notes on.
Be concise on the slides. Everything you are going to say does not need to be on the slides. Use the "Notes" area on the PowerPoint—which participants can't see—to help you remember.
This easy to use Training Presentation will allow the user to have a more focused presentation which ensures better participant retention.
Download: Training Presentation
X
Your free template will download in
5 seconds
.
Check out this offer while you wait!