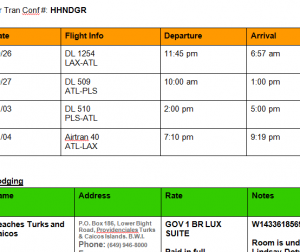 If you're tired of overly-complicated templates that take time out of your busy schedule just to learn how to use, then the Travel and Lodging Template is exactly what you need to get back on track. The simple design of this template has everything you need go from buying your tickets to boarding each and every flight correctly and efficiently. No more spending time reading the instruction manual of templates with useless features, the Travel and Lodging Template has your back.
How to Use the Travel and Lodging Template
Start by downloading the free file to your computer. Just click the link at the bottom of this page to download the template.
Next, in the flight information section of the document, enter the details of your flight listed (exactly like the example). In the example given, the document lists Delta as their airline and they have written their confirmation number for both their departing and arrival information.
The orange section is where you will go into more specifics about your flight information. In the first column, enter the date of your flight, the name, and then the departure and arrival time. When you need to list a new flight, simply enter the same information in the next row down.
The green section is where you will enter all your lodging information. First, enter the name of the place you'll be staying. Next, write the address, the cost of your stay/the going rate, and any relevant notes you think will be handy for your lodging accommodations. You can include things like the name your room will be listed under and the duration of you stay.
When you have all the information you want included listed on the Lodging Template, you can print the document for your convenience. Simply click the "File" tab at the top of your screen and choose the "Print" option.
That's all there is to it. Now you can relax knowing everything you need for a successful trip has been taken care of.
Download: Travel and Lodging Template
X
Your free template will download in
5 seconds
.
Check out this offer while you wait!