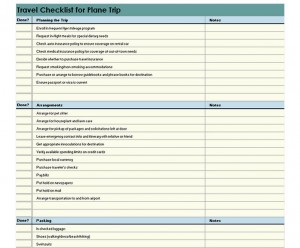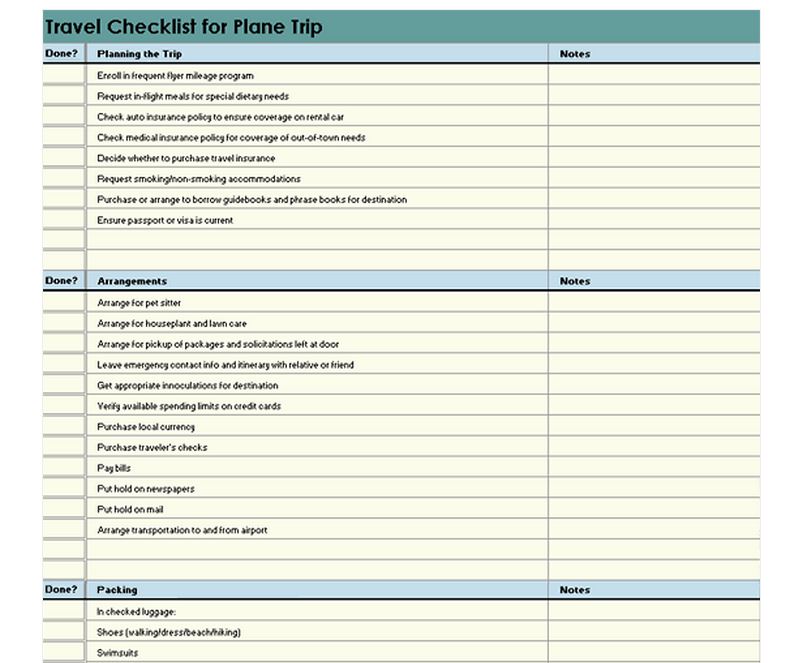 Looking forward to your upcoming travel plans but feel overwhelmed trying to prepare for them? With the Travel Checklist template for Microsoft Excel, you can be certain nothing is left behind or unattended to. This thorough and concise checklist covers everything from confirming that your passport is up to date to making sure you have traveler's checks. The Travel Checklist template will ensure that you are adequately prepared for every aspect of your trip.
How to Use the Travel Checklist Template
After downloading the Travel Checklist template right here on this page, glance over it to determine which tasks apply to you. Some of them might not, such as having a passport, pet sitter, watering plants, etc. Feel free to remove or replace those. The template is customizable, so you may add anything you need to the checklist.
Once you know what you need to check off, begin confirming that each preparation is made, starting with the top. Each section is for different steps of preparation, and they are arranged in chronological order.
If you have everything checked off, you are ready to travel!
Tips for Using the Travel Checklist Template
Remember to not try and check off everything that comes with the template. It is extremely likely that some of the items on the list will simply not apply to you, so don't be afraid to leave them blank or just remove them from the list. you could even replace them with tasks that are relevant to your particular travel needs..
Although the checklist has a straightforward design, it is practically mandatory to perform the tasks in order for the most part, as some of the earlier ones are prerequisites for the latter.
The checklist is only as useful as you make it, so try to take each and every item on the list seriously. If you are diligent in confirming that the appropriate action was taken for each task you check off, it could be and indispensable tool for your travel plans.
We know air travel can be a stressful event with a daunting process of preparation and planning leading up to it. However, with the Travel Checklist template, you can spend less time concerning yourself with all of the arrangements and more time enjoying your trip. It is available to download for free, right here, at myexceltemplates.com.
Download: Travel Checklist Template
X
Your free template will download in
5 seconds
.
Check out this offer while you wait!