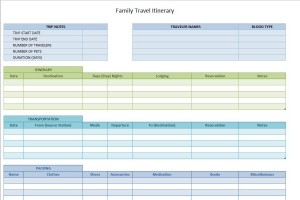 It is a fact that travelling by plane can be tedious especially if you are engaged to such undertaking frequently. It can be true that having to board a plane may not be stressful since all you have to do is to sit and wait for the aircraft to land to your place of destination. However, we also have to admit the fact that plane travel may not be as easy as boarding a bus wherein you will just board and pay the fare. If you have to travel by plane, you have to arrange for several details including booking for your ticket, securing pertinent documents like passports as well as preparing for your personal belongings. With this, we realize the importance of having a travel checklist so as to keep everything organized. In this light, the downloadable travel packing checklist can be very favorable to every plane traveler.
Premiere Features of the Downloadable Travel Checklist
Aside from keeping your affairs in the most organized way, the travel packing checklist will also be a complimentary tool to keep track of everything that goes on your way. For instance, the traveling checklist will assist you in perfecting for a structured trip ahead of time. This is especially true to vacations, tours as well as business trips wherein so many details are demanded to be prepared. Moreover, the traveling checklist will also be helpful in setting for the actual expedition. Further, the travel checklist will also serve as an important guide for in packing for your baggage. Another good thing about the it is that it can be easily modified since in a downloadable Excel template. The checklist is also available free of charge.
The Pluses of the Travel Checklist
After you have downloaded the Excel travel packing checklist template, you can immediately make use of the file for your advantage. Among the most customary features in the checklist are the following:
Preliminary Preparations. Foremost, coming up with a trip will always commence with the preliminary preparations. The checklist will then assist you in determining matters that necessitate for your utmost attention.
Concrete Plan for the Trip. If you would like to ensure that your trip will smoothly progress and you will have a convenient time then having a concrete plan based on the checklist will be recommended
Things to Prepare. After you have set for everything regarding the trip, it would also be necessary to prepare yourself for your voyage. Personal belongings like mouth sprays, clothes and foot wears must be geared up accordingly.
Download the Travel Checklist from Microsoft Office: Travel Checklist
X
Your free template will download in
5 seconds
.
Check out this offer while you wait!