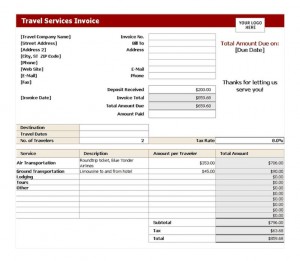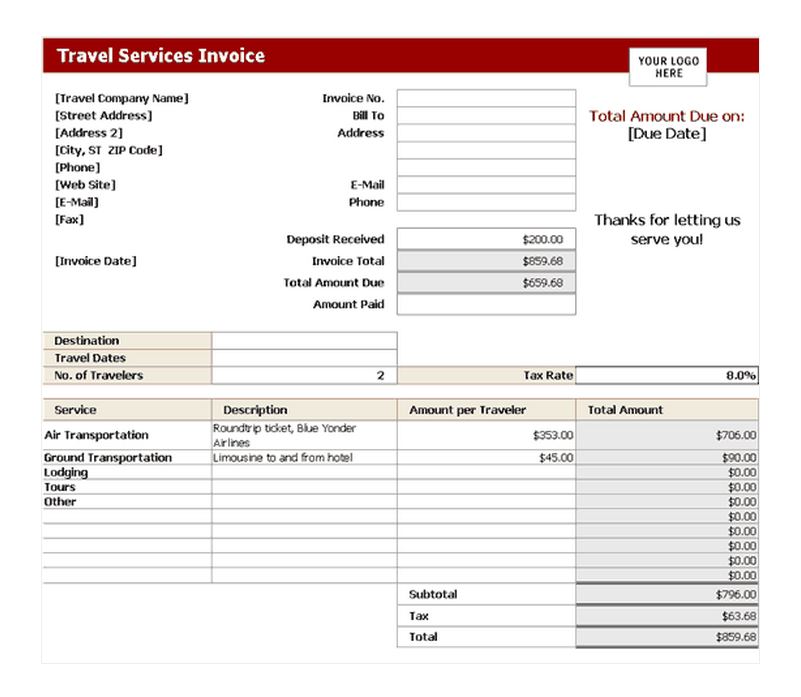 The travel industry is complicated. It involves many communications, travel service invoice forms, and arrangements between parties who never speak with each other. The travel agent is the person who makes sure the client has a memorable vacation, and the resort or travel service is accurately compensated for their services.
Many problems in arranging travel can be avoided with a descriptive and itemized travel service invoice that lays out all of the services provided. Vacationers can see exactly what they are paying for. Resort and destination hosts have a full description of the purchased vacation packages, and the travel service can show, line-by-line, what services they have provided. A detailed and easy-to-read invoice is the best way to communicate.
Travel Service Invoice Template Navigation Is Simple, Yet Detailed
The cost of recruiting travel services is straightforward. Pay a professional to find the best travel package rates. Most people are accustomed to seeing the total costs of vacation packages advertised, but when the bill is due they have questions. A detailed invoice using this free and professional template is easy, but will require an itemization of each service provided.
In a similar way that word processor documents are used, this service invoice is quickly filled-in with the use of your keyboard's Tab button. After the quick download, fill-in the amounts for services for everything from consultations and research, to added tour fees, in-country expenses and international taxes. With this template all totals are generated once all the blank fields are filled-in. Clients can see every calculation that was made to create their dream vacation. There are even customizable text fields in this template to insert a company logo.
The Travel Service Invoice Is Customizable to the Providers Needs
This template can be customized to fit the particular business model of any travel service agency. Simply delete title fields and replace them with any desired cost categories. The template is designed in such a way that the travel agent can add-to, or delete fields to suit a unique service. With this template all clients will receive an accurate and detailed list of the services extended to them. Totals on this travel service invoice are the detailed sum of services extended and an honest and timely breakdown of the cost of a well-deserved dream vacation.
Download: Travel Service Invoice
X
Your free template will download in
5 seconds
.
Check out this offer while you wait!