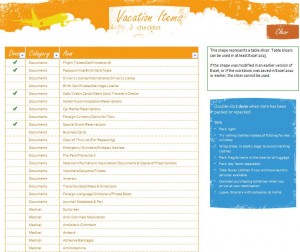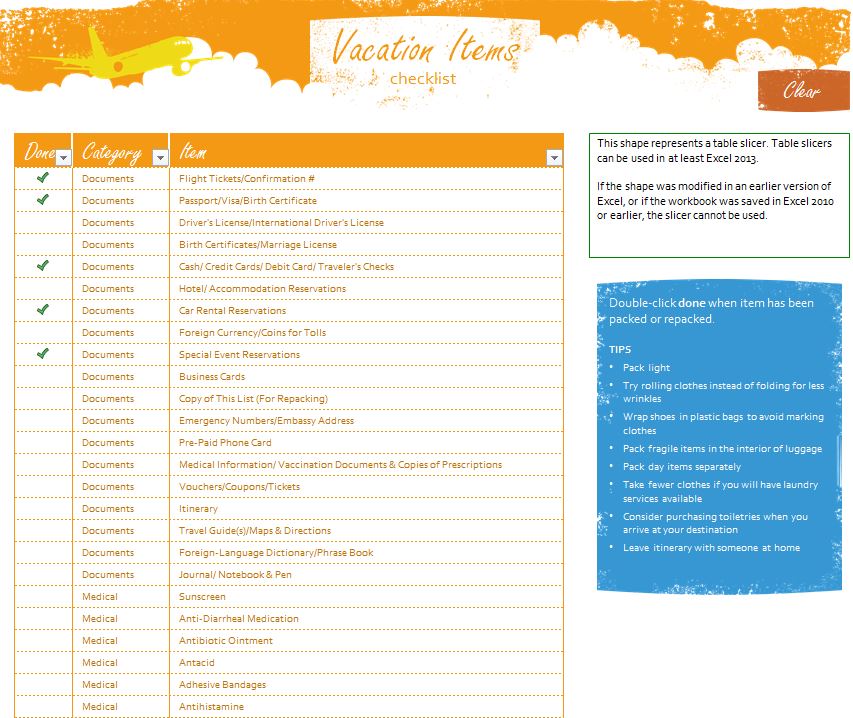 People that use a vacation travel checklist for their trip are organized and well prepared. This will give them more time to have fun when they are on their trip. It is set up to be easy to read and to write information in. There are spots for all different kinds of things that will make their trip enjoyable.
A Vacation Travel Checklist Makes Sense
The checklist is available for free. It is customizable so it can be made to fit any vacation destination that a person has an interest in. Since the checklist can be saved, it can be reused again and again. They will be able to make sure that they have everything that they need to when they are going someplace away from home.
Tips for Using the Vacation Travel Checklist
When planning a trip, the vacation travel checklist is simple to use, the items can be cleared easily or they can be saved and stored. It is an excellent idea to print out the checklist, so vacationers can have it handy when they are traveling. This will help them to make sure that they didn't leave anything in their hotel when they are planning to return from their trip too.
Having the vacation travel checklist makes packing simpler for the trip. Vacationers will be able to keep track of what they need with them and what they have included in their luggage. Since packing can be stressful, the checklist will make it simpler and less stressful for the person that is traveling. Having a list to look at is easy for both older and younger people. Many families like to use the checklist because each person can make sure that they are bringing everything that they need to.
A vacation travel checklist is something that many people will love to have when they are planning their next trip. Since it is free for them to use, they will get things done quickly and easily. It makes planning a trip a lot of fun, and it streamlines the time for people. They can access the checklist at any time they need to because it is online. If they want to use it in the middle of the night, they will be able to do so.
Download: Vacation Travel Checklist
X
Your free template will download in
5 seconds
.
Check out this offer while you wait!