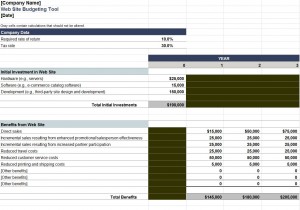 Creating a website for your business is a costly task. However, if completely ignored, can be even more costly when it comes to sales or efficiently running your business. Microsoft has created a great Website Budgeting Template to help place all the costs and values at the forefront to seek out your best options for you and your business.
The Website Budgeting Template is available for download on this page at absolutely not cost to you. The form can easily be customized to fit whatever needs that you need to adjust to best target your potential clients and investments in software and hardware – or in the cases of outsourcing the cost of your designers & programmers.
Using the Website Budgeting Template
The first thing that you want to do once you download the page is add your company name of course. The other information you will need to provide (if you use the standard form information) is:
Company Date (Required Rate of return & Tax Rate)
Initial Investment costs for website (including Hardware (e.g., servers), Software (e.g., e-commerce catalog software) and Development (e.g., third party site design and development)
The things to keep in mind is that the Website Budgeting Template is set up to look at the overall pictures, not just the money out of pocket. It will have you outline the benefits that you want to make sure you get out of your website (A goal that is also important in helping those designing the site to be aware of as well). The preset options that come in the Website Budgeting Template are:
Direct Sales
Incremental sales resulting from enhanced promotional/salesperson effectiveness
Incremental sales resulting from increased partner participation
Reduced Travel Costs
Reduced Customer Service Costs
Reduced Printing and shipping Costs
Additional Benefits You Want to Include
The next section of the Website Budgeting Template will give you an overall of costs (Not including initial Capital investments). Again, the preset options which can easily be changed to meet your company's needs are:
Cost of Sales
Maintenance
Project Management, Customer Support
Online Advertising, Search Engine Registration
Depreciation on Capital Expenditures
Hosting & Domain name registration
Additional Costs information
Using the information provided it will break it down to give you the Net Benefits costs to see if it will be an efficient way to put your services online. A website can cost thousands or tens of thousands of dollars depending on the complexity of the site. Armed with this ammo will help you determine how much money this will eventually save you in time and how many more potential sales you can make.
Download: Website Budgeting Template
X
Your free template will download in
5 seconds
.
Check out this offer while you wait!