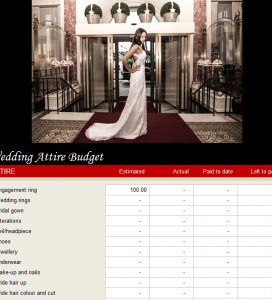 One of the most expensive parts of a wedding is the attire. The Bride's dress alone could cost thousands of dollars depending on your budget. You want to make sure that your wedding doesn't suffer if you decide to spend a little extra on your dress. The Wedding Attire Budget can help you accomplish this goal by giving you a way to create a budget and stick to it. Simply fill out the required fields and carry this document with you when you actually go to make your purchases. It's that simple. You download this document for free by clicking the link below.
How to Use the Wedding Attire Budget
After successfully downloading the template, begin by limiting your wedding attire to your ideal budget.
There are plenty of examples to help you get started on what to consider for your own wedding. You can also change or edit these examples to things that will be at your wedding specifically. Just click inside the cell and start typing to make any changes.
After you have made your edits to the category column of the document, start filling out the "Estimated" column. This is where you will create the exact amount you intend to spend on each item. This will make it much easier for you to stick to a budget when you actually go to purchase these items.
The next column, "Actual," is where you will enter the actual amount you spent on these items. Let's say you bought a wedding ring for 400 and your budget was 500, you'll just enter the amount you actually spent (400).
Some items may need a few payments, so the "Paid to date" column allows you to enter the amount you initially put down and calculates the amount you have left in the "Left to Pay" column.
You will receive a grand total at the end of your document, adding up all your items at the bottom of the page.
Wear the attire you dreamed of for your special occasion, download the Wedding Attire Budget today.
Download: Wedding Attire Budget
X
Your free template will download in
5 seconds
.
Check out this offer while you wait!