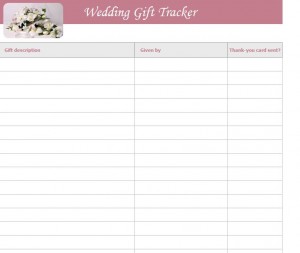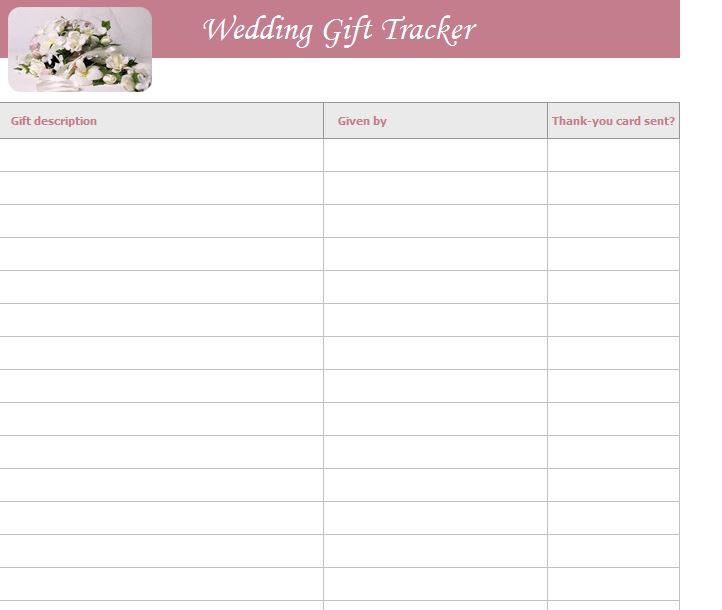 During your hectic wedding plans, your wedding gift "Thank You," notes are probably the last thing that you want to think about. However, these notes are very important to send, because they will help your loved ones feel appreciated and loved, especially since many of them will have purchased you large and expensive gifts.
Many people dread sending out these cards because they worry that it will feel stressful. However, with this list, you can just sit in front of the TV, with your new spouse and watch your favorite movies while you write these thoughtful, short, simple notes.
How to Use Your Wedding Gift List Template
After you get back from your honeymoon, it's time to open your gifts. You might want to print out several copies of the list, depending on how many gifts you guys have received. Next, fill out your list as you go along. This way, when you're done opening gifts, you have a handy lightweight paper list that you can sit down with and use to write your "Thank You," cards.
This simple list has three columns, detailing the gifts you receive and their descriptions, who gave the gifts to you and whether you have sent "Thank You," cards or not. These are the facts that are the most important when it comes to thanking your guests and loved ones. When you write a "Thank You," note, the givers will want to know that you remember details about what they gave you and that their gift is something that will make your life easier or bring you joy as a new couple.
A "Thank You," note that says "Thank you for the ceramic cookware, we have so much blue in our kitchen, so it matches perfectly," will inspire more positive feelings than, "Thank you so much for the ceramic cookware. We can use it." Though both notes convey thanks adequately, personalization sounds a little better and personalization is what this free Wedding Gift List Template can help you put in YOUR "Thank You," notes.
Tips for Using Your Wedding Gift List Template
It is best to hand write your "Thank You," cards. Though it may seem like a lot of work, it is something you can do while watching TV and hanging out with friends and loved ones. If you have a lot of people to thank, just make an effort to write 10 – 20 cards a day. Eventually, you will finish. You can also ask friends and family to help.
Always thank guests on behalf of you and your spouse, saying things like "We thank you," or Thank you from both of us," even if your spouse is not involved in the process of sending the notes.
Download the Wedding Gift List Template from Microsoft Office: Wedding Gift List Template
X
Your free template will download in
5 seconds
.
Check out this offer while you wait!