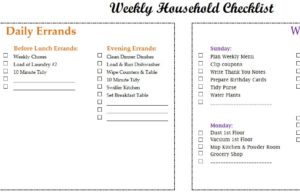 The Weekly Household Checklist is a great tool for anyone looking to keep their daily and weekly errands in check, the cleaning template. This template gives you the tools you need to quickly organize all your tasks in one place and check them off as you go. You can even print this document to carry around with you or hang up in convenient locations around the house so you never forget. The idea is for you to download the template, follow the instructions below for customizing, and print the document for you to keep a neat and tidy home. No more messes, download the free template today.
How to Use the Weekly Household Checklist
To download the free template to your computer, simply follow the link at the bottom of this page.
Next, you'll see there is a section for daily tasks and weekly tasks. Start in your daily task section, highlighted in orange.
There are three different categories for both daily and weekly tasks. These categories are broken up by the time of day. Read the list of examples and edit or delete the ones you need to fit your specific routine.
You can change anything in the template by clicking on the desired cell and entering something new. There are also a few spaces in each section to add additional items well. If you want to set up a specific time to complete tasks during the day or week, use this method to change the time to your liking.
You will go through and list your weekly tasks in the same manner in the next table, highlighted in purple.
When you have everything entered into the document, it's time to print. Scroll to the top of the page and click "File" then "Print" to print the document and select the number of copies you want.
If you're ready to clean your house and keep it that way, then this template is the right tool for you.
Download: Weekly Household Checklist
X
Your free template will download in
5 seconds
.
Check out this offer while you wait!