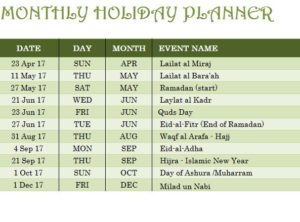 Take in the celebrations of the Islamic faith by downloading the Islamic Holiday Calendar Template. You can see all the holiday celebrations that come with this religion. If you're new to Islam and want to know more about it, then this template offers you a unique look into the most approachable aspects of any religion, the events and celebrations. To download the free template and start learning about the fascinating celebrations of the Islamic faith, just click the link at the bottom of this page and follow the instructions below.
How to Use the Islamic Holiday Calendar Template
After you've downloaded the free Islamic Holiday Calendar Template, you're free to start exploring all the tools that come with it.
In the "Events" tab, you'll see all the celebrations of Islam. For example, the first item in the "Event Name" column is "Lailat al Miraj." This celebration commemorates the Prophet's journey to the "Farthest Mosque" in Jerusalem, where he ascended to Heaven.
Another holiday is Milad un Nabi, which celebrates the birth of the Profit. Depending on the country observing the holiday, some engage in a carnival-style celebration that's enjoyed by the entire community.
The other tabs of this template offer you the power to print these celebrations in a calendar format as well. To do this, go to the "Print Version" and simply click "File" then "Print" above.
You can also see a timeline for this information in the "Timeline" tab.
There are many cultures across the world that celebrate these events differently. If you want to add or change these celebrations, you can do so back in the "Events" tab. You can choose how they will appear on your timeline with the "Height" column in the table.
Get started with the festivities today, by downloading the free template.
Download: Islamic Holiday Calendar Template
X
Your free template will download in
5 seconds
.
Check out this offer while you wait!