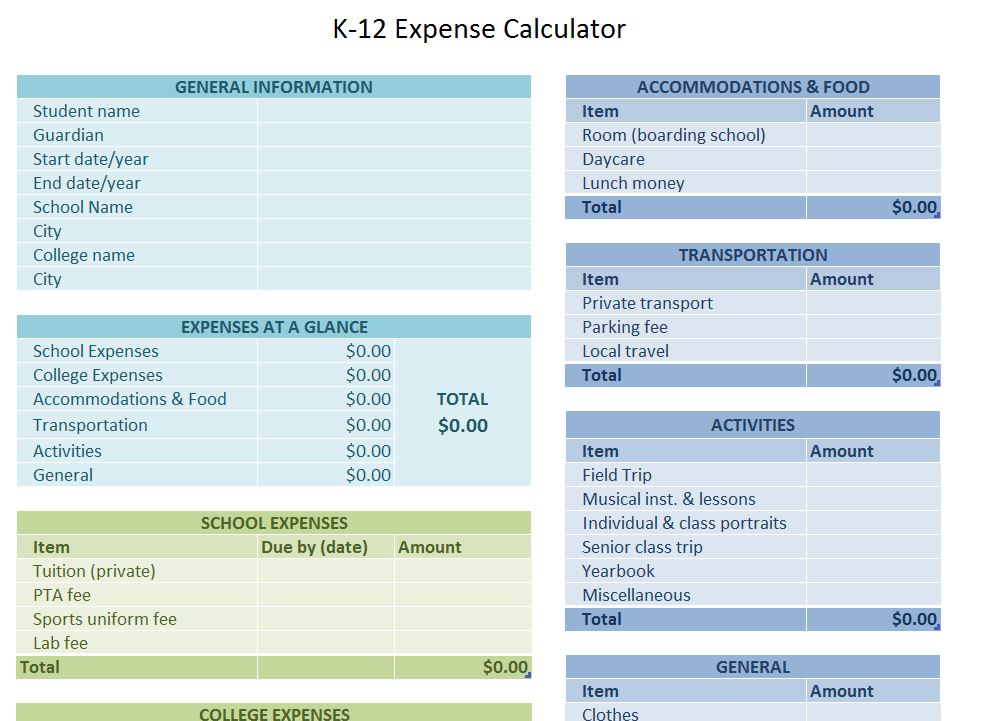 The new school expense calculator provides a great way to organize all your education expenses. This template is easy to use and share with your colleagues, students and parents when the need arise.
What is School Expense Calculator?
When it comes to handling school budget, it is important to make sure that funds are properly used. The traditional way of expense calculating is too much of a hassle. And moreover, this method is prone to errors and miscalculations. With this new school expense calculator, there is no room for trial and error. This template will allow you to calculate all costs pertaining to a school, such as school activities, food, entertainment, fees, transportation and so on accurately. With this calculator, you are bound to succeed in your fundraising goal for the school.
To use school expense calculator on your computer, simply follow the below instructions:
Download a copy of the calculator from this webpage for free.
Store it in a location and retrieve it whenever needed.
The tools and menus let you enter rows and columns of items and their respective cost. The first block represents general information. The rest of the blocks are for expense entries. The spreadsheet calculates the total expense for your reference.
Finally, save your work.
Other Benefits of the School Expense Calculator
The school expense calculator can never go wrong because this uses simple mathematical functions in the background. A busy school PTA will need just that, a handy tool that can come to its rescue during fundraising programs. You will be happiest with the results when you plan this template as a part of the curriculum. The software has a fine and flexible collection of default elements to choose from. The user can either stay with the default settings or change them as required depending on the project. The tool also creates a stunning and useful backdrop for other software used in schools. Above all, the calculator adds interest, elements and depth to the conventional one. This tool is a must have for any school concerned about expenditures and cost-cutting.
Download: School Expense Calculator
X
Your free template will download in
5 seconds
.
Check out this offer while you wait!