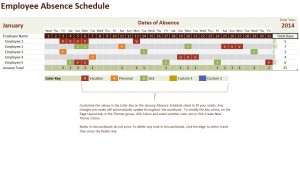 How much is it worth to have a clean and easy way to track employee absences? Lots actually, but in this case the 2014 Employee Vacation Tracker is free. The 2014 Employee Vacation Tracker is one of the many free business templates available on this site. Just download and use. This template can be used in Microsoft Excel
Using the 2014 Employee Vacation Template
The 2014 Employee Vacation Tracker is fun to set up and easy to use. One-page spreadsheets present the information in a simple Excel format good for all mobile and computer platforms. The template actually can be customized for any year as it tracks time reports and absences of workers. It's color coded and works month by month.
The 2014 Employee Vacation Tracker features grids, the month and dates of absences with a title bar on top. The left-hand vertical side lists each employee being tracked along with monthly totals. Across the top horizontal line, days of the week are listed. Fill in the values in the grid and know who's been absent and why with color coding.
The 2014 Employee Absence Schedule package includes:
Ability to customize values courtesy of color codes
Automatic updating of schedule in entire workbook
Easy modification of page layout tool
Notes don't print, easy deletion function
How to Use the 2014 Employee Vacation Template
Templates are fun and easy to use. Once employee names are filled on the left vertical lines, fill in the grid with color coded absence reasons. Assign colors to in boxes to designate vacation, personal, and sick days, or customize colors and boxes to add other reasons for absences
Tips for using the 2014 Employee Vacation Tracker include:
Complete customizable grid with employee vacation data
Fill in data fields for individual employees
Color code absence reasons and insert in grid
Save files after filling in grids with names and absences
Back up templates with printed copies in case of data loss
Download: 2014 Employee Vacation Tracker
X
Your free template will download in
5 seconds
.
Check out this offer while you wait!