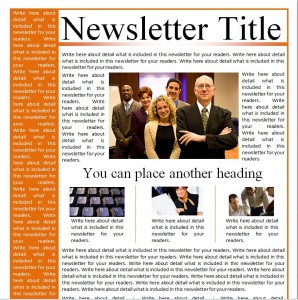 A newsletter is a great way for business owners and management to communicate information to employees and customers in a fun way. In the business world, the old adage time is money holds true. Using business newsletter templates affords a quick and easy way to create a professional looking newsletter. The Newsletter is representative of the company. Be sure to put your best corporate image forward by using templates for the most high quality results produced in the fastest way possible. As the company produces more newsletters over time, more exposure is created each time a community member comes across one.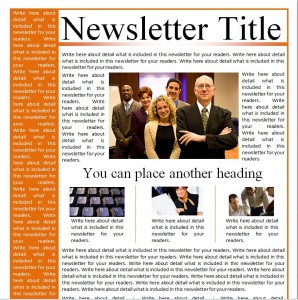 How to Use the Business Newsletter Templates
First, decide how many separate articles are needed. Business owners and managers may wish to communicate new policy, recognize employee of the month, and mention upcoming meetings, sales goals, tips and tricks for the business in question, or any other of a wide range of possibilities.
Second, customize the template by adding your company name, logo, contact information, date of publication, mission statement, all the basics.
Third, start typing your articles into the easily manipulated fields. Be sure to proofread before the final printing.
Tips for Using the Business Newsletter Templates
First, save the final copy of the Microsoft Word documents. This will save time when composing new newsletters. Since the basics will remain the same, saving allows one to not have to type it again for each newsletter.
Second, newsletters are great for in house communication. They can attract new consumers as well. When saving your first newsletter, save it again in a separate file for customers. Each time you create a new newsletter, remove anything that may be unsuitable for consumers. Then, use the rest to form the newsletter your business makes available to the consumer. Add in relevant information targeting the consumer where removed material was located.
Third, consider having various employees write certain articles. For example, think about having the IT department do "Tips and Tricks" section, or some other catchy title. All the mini articles can be done at the author's convenience and mailed to whoever is over the final production. This affords a higher quality of information while maximizing employee time and skills.
Companies will always have to communicate with employees and consumers. Make the process fun and painless by getting started on a newsletter with Microsoft Word documents at myexceltemplates.com.
Download: Business Newsletter
X
Your free template will download in
5 seconds
.
Check out this offer while you wait!