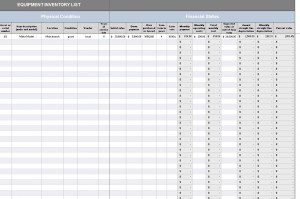 All businesses with tangible assets are required to do inventory. This is one of the most difficult forms of accounting/record keeping. Inventory is a systematic way to account for all goods or materials that a company holds for possible resale. The equipment inventory template can provide a record of all hardware, software, office machines or any other materials or goods in a downloadable, easy-to-use, free form.
Customization provides the ability to record accurate accounts of serial numbers, purchase dates, cost, depreciation, equipment descriptions and locations of materials and goods. This template can be used to produce organized and essential equipment, material and goods records for inventory, accounting and other record keeping business practices.
How to Use the Equipment Inventory Template
Download the template form to Excel and be sure to save the file.
Enter all of the available, relevant, customizable information.
Print the form once all available data has been entered. During the inventory session, use this printed form to add any previously unrecorded equipment or materials and any missing, relevant information pertaining to currently recorded equipment.
Transfer any new information found from the printed copy into the excel form, print a completed copy and then save the file in excel for use in the next inventory session.
Tips for Using the Equipment Inventory Template
Be sure to save a complete printed copy with all other accounting or inventory paperwork. This will be mandatory if there is an accounting or inventory audit.
Be sure to save a copy in multiple locations in case the printed copy is lost or damaged.
Use the data on the template to compare cost of equipment or materials that are in inventory to the cost of new or used equipment that may be acquired in the near future.
Use the data on the template to determine if equipment is no longer cost effective (outdated, broken, etc.). This will control unnecessary costs for machine repair and replacement. It will also give information on original cost and depreciation if the equipment or material is to be sold.
All companies must do inventory. Using the equipment template, found at myexceltemplates.com, will make the process simple and much less stressful.
Download: Equipment Inventory Template
X
Your free template will download in
5 seconds
.
Check out this offer while you wait!