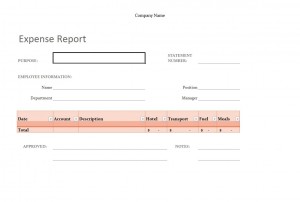 This Excel expense report template is a smart way to keep track of your business expenses. Employees are eager to be reimbursed for the personal money they spend on work-related items, and this template is simple for them to use and submit. It will also help you know the types of expenses your business incurs, so you can make adjustments, such as changing the restaurants or hotels employees frequent.
How to Use the Excel Expense Report Template
Download this template free-of-charge directly from this site. The report is easily customizable, making it the perfect solution to monitoring business expenses.
Fill in your company's name at the top of the report. Employees then fill out contextual information about their expenses like purpose, pay period, statement number, their names, positions and departments. This makes it easy for you to track employees' expenses and input them into your payroll system.
Add in the date, account, description, type of expense and cost for each expense. Add a row above the total for each expense. The report automatically adds the final total of expenses.
Print and sign the reports as you approve them, and make any notes to remind you of important details that pertain to each one.
Tips for Using the Excel Expense Report Template
Add your logo to the top of the Excel expense report template to customize it.
Add or delete necessary contextual information from the top of the form to make it work with your business' accounting and personnel systems.
If your employees submit the reports to you electronically, filter their expenses by date, account, or expense category to help you quickly find the information you need to approve them.
Add or delete expense categories as necessary. Businesses generally use the categories that are pre-populated on the report, but you can change them to suit your business.
Review the reports regularly to find ways to make your business more efficient and profitable. For example, if you notice that employees are racking up a lot of miscellaneous expenses, find out why and work to reduce or eliminate them completely.
This Excel expense report template is a helpful tool to keep your business organized. It allows you to create a paper trail for individual employees' business expenses. It is simple, clean and easy for employees to fill out and submit. After you customize it, send it out to employees electronically to reduce turnaround time.
Download: Excel Expense Report Template
X
Your free template will download in
5 seconds
.
Check out this offer while you wait!