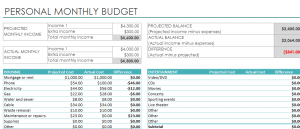 As the New Year approaches, many people pledge to begin budgeting their money better, saving more, and spending less. The Personal Excel Monthly Budget Template is a comprehensive form that covers everything you need to organize your goals in budgeting for the year.
How to use the Excel Monthly Budget
Download the Excel link below and open up the spreadsheet. The first portion to address is the "Projected Monthly Income".  This is to be filled out before the month begins, and should reflect what you expect you bring in that month. The box below, "Actual Monthly Income" is for when you finish the month. Through this, the box to the side will automatically calculate the totals and differences to show the under/over for the month.
The rest of the blue category boxes are for expenses. Not all of these will apply to you each month, so leave blank any that you don't need. As you did with the income portion, enter the projected/estimated cost ahead of the month, and then the actual cost at the end. This will calculate the difference and totals for each category for you.
At the end of the page, a box will automatically generate your projected cost, your actual cost, and the total different (over or under) for that month.
Tips on using the Excel Monthly Budget
Use each month's previous Actual Costs and Actual Incomes to guide your projections for the next month. Then, work to stay within those projections. It may take a few months, but eventually the budget will even out.
If you are over budget, examine each expense category and see where you can cut corners. Make a promise to yourself to not go over a certain limit the next month and stick to it.
Post the previous month's budget where you can view it and reference it as a reminder before paying bills or purchasing new items.
Download the Excel Monthly Budget
Template Courtesy of Microsoft
X
Your free template will download in
5 seconds
.
Check out this offer while you wait!