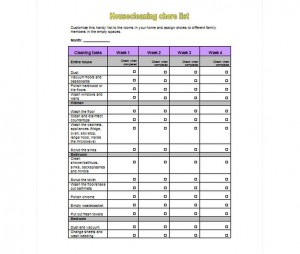 A comprehensive housework checklist is a vital stress-buster. Whether you have a busy family, always on the go with seemingly no time to get everything done, or suburban roommates with tight work-a-day schedules and active social lives, downloading a tasks checklist and posting it in a prominent place makes the home manager's expectations clear up front so disagreements over household responsibilities never arise.
How to Use the Housework Checklist Word Document
The first step is to get our free template from the download link on this page. You will need a working copy of Microsoft Word or an MS-compatible word processing program. You can print out your housework checklist immediately after download and use it "As Is", or you can save it to your Desktop or My Documents folder and customize the task list to your specific needs. There is space in each task block to write in names for weekly assignment, or you could add stickers in dedicated colors or shapes to see at-a-glance who needs to do "what" and "when".
Tips for Using the Housework Checklist Word Document
Discuss task assignments and completion requirements BEFORE posting the housework checklist for the first time. This will ensure that everyone is on the same page with regard to the home manager's expectations, and allow decisions about deadlines or cleaning methods to be hammered out up front.
Encourage teens and older children to assist younger siblings in checking off their assignments. Being allowed to evaluate a task teaches valuable mentoring skills.
Encourage everyone to check off assigned tasks as they are completed instead of waiting and then trying to remember if they got all of their assigned tasks accomplished. Memory fades over the course of a busy week, and checking off tasks as they're finished leaves no room for argument at the end of the week as to whether or not a given task actually got done.
Many families keep old copies of their housework checklist in a three-ring binder to evaluate progress over time, to assess changes that need to be made to future versions of the checklist, or to give kudos or other rewards for task completion at roommate meetings.
Regular use of our checklist directly promotes a clean and organized, and therefore healthier, living environment. Download it now from our easy-to-use link and start the climb to a happier, stress-free home life!
Download: Housework Checklist
X
Your free template will download in
5 seconds
.
Check out this offer while you wait!