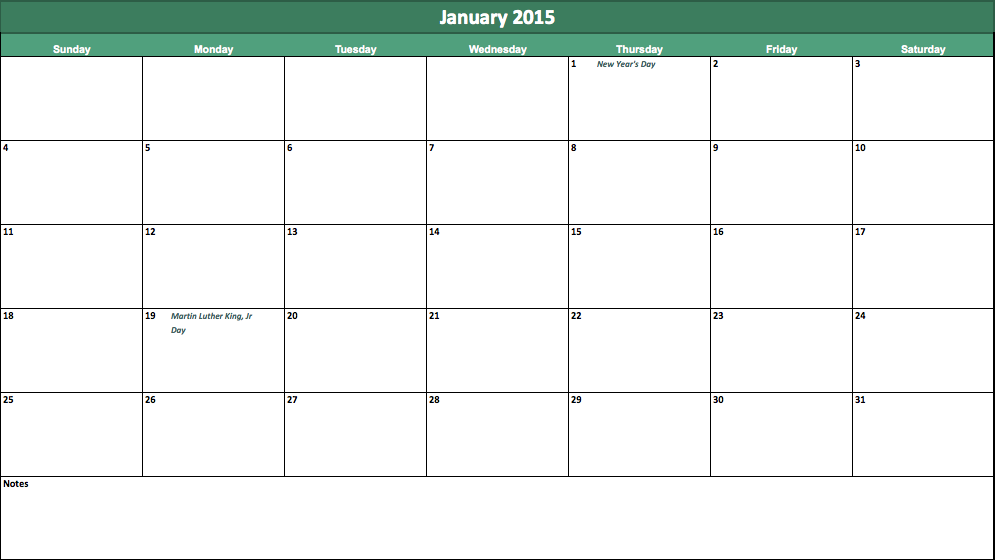 Excel January 2015 Calendar Templates
Getting organized and planning ahead is difficult. Having the tools to assist with organizing, especially for the distant future, is even more difficult. Many times calendars are not available and if you find a calendar, adding information can be nearly impossible. For instance, if there is an appointment that occurs annually, a January 2015 calendar might be needed.
A calendar template for this far in the future would be challenging or expensive to create or find. Calendar templates are imperative for busy people who either need to plan out each individual day, or just note important occasions and holidays. Knowing where to find a free calendar template can save the day.
We Provide Free Excel January 2015 Calendar Templates
If you visit our website, we can provide you with a free calendar template. This will enable you to safely and efficiently track future events. By visiting us, we can help you get organized even faster. These templates are professional looking and simple to install. Each calendar day has a space large enough to add notes. The Excel January 2015 calendar for the annual appointment will have ample space to write reminders for that day.
The calendars that can be created with this free template will be a useful tool for the office and/or home. They can be personalized for that special touch or left as-is to keep a professional, clean look. Personalizing the calendar template can be fun and exciting. This is an amazing way to let creative juices flow. For example, creating a small winter scene on the January 2015 calendar would make it look festive.
One of the greatest advantages to downloading a free calendar template from our website is the ability to make changes any time you want and then print a new calendar page. This makes organization simple and affordable. Get your free calendar template today.
Download: Excel January 2015 Calendar Template
X
Your free template will download in
5 seconds
.
Check out this offer while you wait!