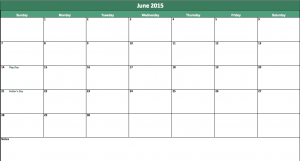 Consumers enjoy downloading our Excel June 2015 calendar template for several reasons. Some of these reasons include: the cost is good, it takes several minutes to download, it's convenient, and it keeps you organized. This is a new way to obtain a calendar, and it's becoming a popular way to obtain a calendar. Parents enjoy this calendar because they don't have to lug their kids to the store for a calendar. People who have a hard time leaving their house enjoy this calendar because they get it from home.
The Excel June 2015 Calendar Template is Free
The cost of our calendar is good because it's free. You won't have to pay for the photos that come with a traditional calendar. If the photos mean that much to you, you should consider doing an image search for the respective person you want in the photo. Once you found photos that you like, you can print them out. You don't have to spend a fortune to have a calendar.
Getting the Excel June 2015 Calendar Template is Easy
If you decide to download all the months in 2015, it takes only minutes to do so. You can attend to your daily routine, while the calendar is printing. Nobody says you have to sit in front of the computer while it's printing. You can attend to the daily activities that you need to get done while the calendar prints.
The June 2015 calendar will keep you organized. If you're having a hard time staying organized, you should consider downloading the calendar. You will be able to write several appointments in one day, so you don't have to worry about running out of space on the calendar. It can be folded to go in your pocket, so it can go with you on your day. It can also be pinned to a wall, put on an office desk, etc. What's your reason for downloading the calendar?
Download: Excel June 2015 Calendar Template
X
Your free template will download in
5 seconds
.
Check out this offer while you wait!