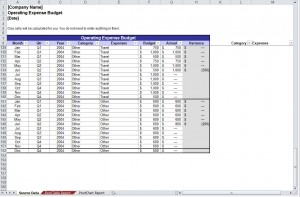 Businesses use an operating budget to gauge how much product needs to be produced to create sufficient sales to support the expenses associated with producing the product. This helps the company to project future financial needs. With the Operating Budget Template from MyExcelTemplates.com, accountants can track common expenses and seasonal expenses to calculate the annual ebb and flow of accounts payable and accounts receivable.
Why Download the Operating Budget Template for Excel?
An operational budget template calculates annual sales, it subtracts the cost of production, the costs of labor and administration as well as overhead and generates the final numbers which equals gross profits. Inherent in the costs listed are additional expenses to run those departments. Advertising expenses and office materials must be used to create interest and consequently sales. Materials and machinery might be needed to manufacture a product and those costs must also be factored into the final equation.
Overhead costs can be quite intricate including licenses, permits, taxes, fees and certification expenses, depending on the business. The most common overhead expenses are the building or office's rent, administration staff payroll, utilities, office supplies and furniture. After the last of the overhead expenses are paid the accounts receivable still remaining are considered the net profit.
Still an operational budget template is simply a guide for developing a projected budget. The actual numbers tend to stray somewhat from the calculations, it is, however a very good means for estimating expenses. It can also be used to apply for financing.
Tips for Implementing an Operational Budget
If the principals of a business attempt to gain financing without an operating budget, they are not likely to be taken seriously by a financing institution. The principals must present themselves as having a good understanding of projected sales and revenue for the future in order to be worthy of a loan. Bankers need to understand how the principals intend to repay the loan. Using an operating budget template Excel, the bankers can easily see the company's future financial outlook.
An operating budget template Excel for any business is a great way to identify future financial issues that may need to be addressed. The company wants to function smoothly, without undue challenges that cause layoffs or shut-downs in production. First they must attempt to anticipate potential problems before they happen. This can be achieved if the company employs the use of an operating budget template. An operating budget template Excel provides the necessary basics for tracking annual expenses, including seasonal challenges. By identifying challenges early, the company can keep them well under control and continue to operate smoothly.
Download the Operating Budget Template from Microsoft Office: Operating Budget Template
X
Your free template will download in
5 seconds
.
Check out this offer while you wait!