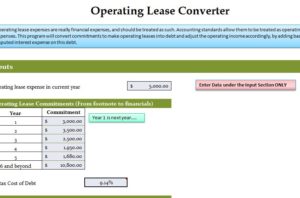 The Operating Lease Converter allows you to convert your operating lease information and turn it into useful financial data that is easier to work with. The free template is your new guide to simply entering information and figures that you already have and then getting valuable feedback in return with a simple click of your mouse. The data you will receive includes leases to debt conversions, reclassification totals, and much more. This template is perfect for people looking to start their business or receive some direction if you have already got the ball rolling. To use this free template, just follow the guide conveniently given below.
How to use the Operating Lease Converter
To download the free template, just follow the link at the bottom of this page.
Next, in the section highlighted in green, you will want to fill out all the data that is listed. Just enter the corresponding figure in the blank spaces. To change the given examples, just click the cell you need to change and write something new.
You will begin be entering the monetary commitment you have in the early stages given. You will also want to list the pre-tax cost parentage at the bottom of this section as well.
Finally, just enter the Reported Operating Income, Reported Debt, and the Reported Interest Expenses in the last section of the green tables above.
The following clue sections of the document are the feedback your will receive from the information you gave above.
You will receive helpful data, such as operating costs, commitment versus present value, the Operating Income with Operating leases reclassified as debt, the Debt with Operating leases reclassified as debt, and the operating lease adjustment figures that you need.
This template makes it easy to access your operating lease costs and apply that to real world finances.
Download: Operating Lease Converter
X
Your free template will download in
5 seconds
.
Check out this offer while you wait!