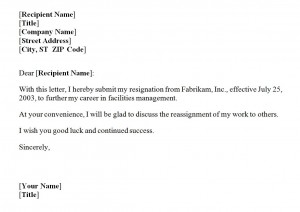 It's time for you to leave. You have had enough with your employment situation, and need a way out that won't haunt you in your industry. You need to resign but haven't a clue about how to go about doing it. Well, it may be your lucky day. A resignation letter template is only a click on a mouse, or a touch of a screen away. It can be downloaded for free, or it can be easily keyed into your own cloud.
Using the Resignation Letter Template
A resignation letter template is an important step to ending your current employment. It absorbs the shock or dismay by:
Fulfilling your contractual obligations
Directly stating your date of departure
Defusing any emotional response
By using this resignation letter template, it helps you to maintain a professional image in any industry. You never want to 'burn any bridges,' because you have no idea how far they will follow you. There are also numerous occasions that the notion of your leave has wound up in promotion. This way you have given your employer ample time to respond. In order for you to use a resignation letter. do the following:
First, hand it to your direct supervisor, postdate it a week before your contractual obligations require
Next, if no further discussion is made about it from your direct supervisors, hand it into your Human Resources Department.
After that, follow through with your statement.
Now, let's get to filling in this resignation letter template. It is set up as any professional letter you should be used to supplying:
First, enter your name and address. The template will automatically format it for you.
Then, add your direct supervisor's name and title. Then add your employer's name.
Finally add your date of termination.
Your additional nomination will have to be updated, but that will be shown as you customize the process.
Remember, a resignation letter template will help you state what you would like to do and when you would like to achieve it. You cannot foreshadow what will happen when you present it, you can only hope you will be accepted for what you are worth. It never hurts to take into account what you believe you are worth. But, with this resignation template letter at least you have not caused any harm to your professional image.
Download: Resignation Letter Template
X
Your free template will download in
5 seconds
.
Check out this offer while you wait!