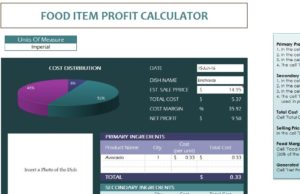 The Restaurant Food Calculator is the perfect tool to calculate the cost of any menu item for the maximum amount of profits for your business. Every business owner knows the hassle of tweaking their prices, especially restaurant owners. Taking into consideration the cost of ingredients and the current market prices, you would spend a while fine-tuning the price of a single dish until you got it just right. This free template helps you solve that problem instantly by calculating the cost automatically. To learn more about this free template just read the guide below.
Restaurant Food Calculator Description
By spending a small amount of time entering the prices for the brands and ingredients you use, you can easily come up with a food calculator made specifically for you fine establishment. From this point, it just becomes a simple matter of entering the ingredients of each dish to have your calculated price laid out before you.
Using the Restaurant Food Calculator
To download the free template document, you can quickly follow the link at the bottom of this page.
The next step will be to customize the document to fit your own needs. Start by choosing the units of measurement you want to use for your food.
Next, make your way down to the main table of the document, highlighted in blue. The next step will be to enter the date, name of the dish, and the estimated sale price of that dish. You will then move down to the "Primary Ingredients" tab. Here, you will be able to enter the prices for the main ingredients of your dish.
The light-blue table is for entering secondary ingredients.
You may also use the brown table to list any preparation costs like utilities and preparation time.
You may also leave any special notes like if the dish included a common allergen.
Finally, you will scroll back to the top of the page to see the cost margin of your dish, with all the elements you listed included.
Download: Restaurant Food Calculator
X
Your free template will download in
5 seconds
.
Check out this offer while you wait!