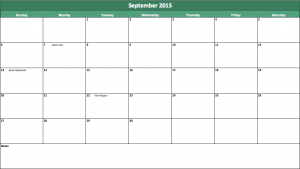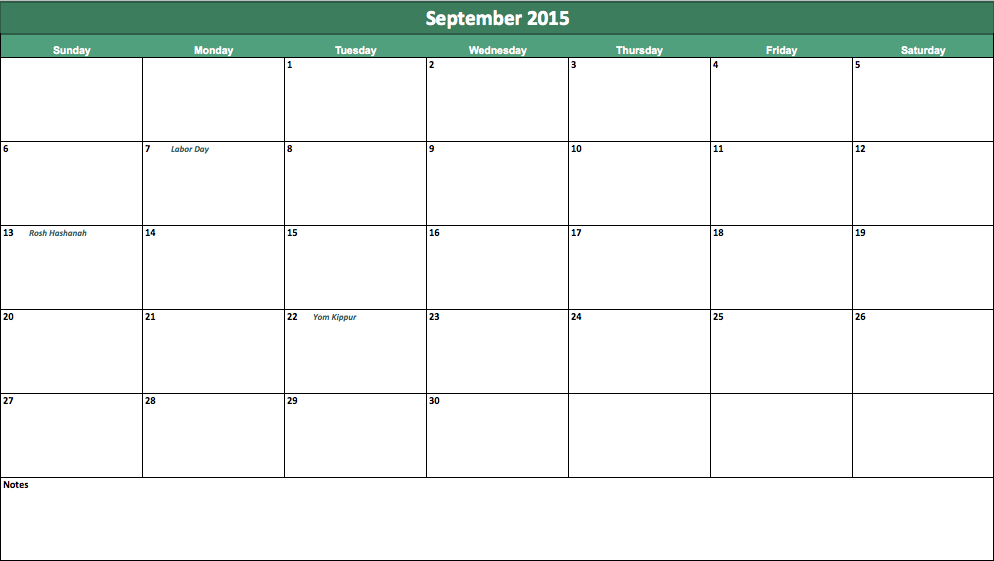 Free Excel September 2015 calendar templates are ideal for the individual who likes to plan ahead. The September 2015 calendar template is also appropriate for persons with career positions requiring long-term future planning requirements. Consider using September 2015 calendar templates or any other calendar template you require for all of your financial projections or in setting long-term milestones.
Goal-Setting is Easily Accomplished with an Excel September 2015 Calendar Template
Individuals can use calendar templates in order to establish financial objectives in the way of planning for college savings; or budgeting for retirement. City planners or project managers may wish to use futuristic calendar templates in order to set objectives with regard to the long-term projects which they are working.
The person whose job it is to plan for the future needs of a metropolitan area finds the task easier to facilitate when they know they can easily print out calendar templates well into the future. Additionally, if adjustments are required, other templates can be printed out easy enough in order to make changes.
A September 2015 Calendar Template Can Keep You Organized
It is fair to say, those who plan are at a great deal lower risk of unforeseen problems adversely affecting operations or their daily lives. Such a person is always organizing his or her thoughts, planning for events which may delay a project or objective. Also, if other issues not planned for come to the forefront, the individual who carefully plans is in a more favorable position to better arrive at a reasonable solution than the individual who does not make it his or her job to make future planning a regular activity. Staying organized, too, gives an individual good control of managing what is expected of him or her. Again, this includes personal as well as professional planning needs.
It is correct to state, having a calendar available two years or more in advance is generally not available offline to you. The templates are easy downloads making the activity of planning, well in advance, realizable. The templates come in the form of yearly and monthly downloads. You can then not only plan for a year's activities in advance; you can cross-reference your planning schedule using the monthly calendar.
The calendar templates can be printed out by way of Portrait or Landscape orientation; so you can create a calendar that best fits the space where you are making use of it. Also, as somewhat alluded to above, if you need to change milestones or add items, adjustment can easily be remedied: you can always go to your computer and print out additional templates. Conclusively, the templates make future planning activities and scheduling a snap.
Download: Excel September 2015 Calendar Template
X
Your free template will download in
5 seconds
.
Check out this offer while you wait!