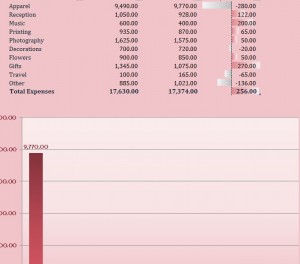 The Wedding Budget Summary is your way to planning the perfect wedding ceremony. The simple budget sheet allows you to enter the important details of your wedding and keep track of the amount you're spending. It can be extremely difficult to remember all the minor things that make a wedding the event you envision in your mind. Many people want a wedding that will last forever in their loved one's memories, you just need a solid way to organize everything and that's exactly what the Wedding Budget template is here to do.
How to use the Wedding Budget Summary
Downloading the template to your computer is as easy as clicking the link at the bottom of your screen.
To start editing your document, begin by entering the date of your actual wedding ceremony in the upper-left-hand corner of the page. You will see the template automatically calculate the days left until your special event.
The main table is where you will customize your budget in the "Wedding Budget" tab. There are four columns in total for this budget sheet. After you have gone through the other two tabs you will come back here to receive a comprehensive breakdown of your wedding budget.
You will click on the "Apparel-Reception-Music-Pics" tab. Just as the name indicates, this is where you will enter your budget and the actual cost of the items highlighted I this section of the template.
Each section is listed as a specific category, such as "Apparel, Reception, music, etc." go through the list and enter the items in these categories that you want for your dream wedding. You will enter the estimated (budget amount) and actual (actual cost) for each category item you give. The template will automatically calculate if the cost was under or over your budget in the last column of each table.
You will fill out all these areas and do the same with the "Decoration-flowers-gifts-travel" tab as well. Both tabs are set up in the same manner; they simply cover different aspects of your wedding. There will also be totals for each category provided at the bottom of each category table.
Finally, you will go back to the "Wedding Budget" tab where you started to receive a summary table for your entire budget and a graph to indicate the difference between your budget and what you're actually spending. You can use this information to find exactly where you are going over budget and take actions to correct it.
Download: Wedding Budget Summary
X
Your free template will download in
5 seconds
.
Check out this offer while you wait!