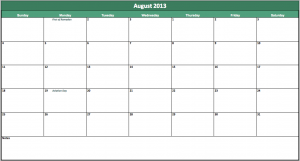 Calendars are essential to keep track of important appointments and special events in a person's life. Purchasing just the right calendar can be very expensive, that's why it is so convenient to create your own calendar, just the way you want it and totally free. Using a free calendar template could be the best solution for you.
Calendar templates are so easy to use, and can give you just the right calendar form that you need. This is also especially great to use if you want to create an August 2013 calendar. If August is a special month to you, then calendar templates can give you exactly what you want. Making calendars with a template can also be great gifts to give out to family members and friends. This can be a very creative way to show them that you love them by giving them a special calendar.
August 2013 Calendar: Easy To Use
Calendar creation is very easy to do, and you can customize them the way that you want them to look. If you need a calendar with a specific picture on the front of it, then these templates can provide you with exactly that. You can add special events to your calendar such as birthdays, and anniversaries and so on.
Holidays can be a snap to remember by adding them to your calendar. Your August 2013 calendar can be made to be a very memorable calendar with these templates. Whatever your favorite month or day of the week is, these calendar templates can highlight them, and make them a special keepsake for a person to collect as well. Get your August 2013 calendar or any of our 2013 calendar or Excel templates for free today.
Download: august-2013-calendar
X
Your free template will download in
5 seconds
.
Check out this offer while you wait!