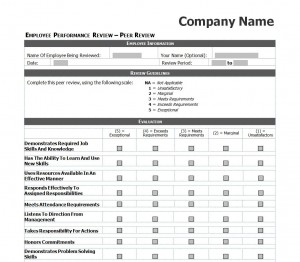 All employees want to know exactly how they are doing in their jobs, and one of the best ways to do that is in writing. Plus, it gives everyone a record to look at to see how the employee is working out and if they are doing their jobs properly and efficiently. The Employee Performance Review Checklist can allow reviews to be handled much easier and in a more uniform and streamlined fashion each time, plus each employee gets rated in the same fashion, which makes it more fair all the way around for everyone. It's a quick, free and easy way to put down all of the appropriate information on each employee and it can be customized to each company's specific needs.
How to Use the Employee Performance Review Checklist Template
First, you need to download the template and decide what part of the employee performance review checklist template needs to be customized. You can fill in all of the appropriate company data and then save the new file. Be sure to include company address like place of work and contact information, as well as all of the duties of the employee being rated.
Second, set up the appropriate fields that will be required for listing the ratings for each employee. You will need things like fields for teamwork, leadership skills, job knowledge, and anything else that applies to their position at the company.
Third, put in fields for any other appropriate data such as an area for listing their education, specific accomplishments, etc. You may also need a field for the signatures of the employee and their supervisor.
Tips for Using the Employee Performance Review Checklist Template
Before using the checklist document for the first time, be sure to look it over and have an idea if any changes may be needed.
Be sure to have training on the guidelines and how to use the template's scoring system for your employees.
Know what is likely for scoring each employee so that you can discuss the final score with the employees if they have any questions.
Be sure to let the employee turn in their accomplishments, goals, any classes they are taking or other data they believe that will be helpful in their rating process.
All companies have employees and it is necessary to evaluate them on a regular basis. By using the Employee Performance Review Checklist Template to do so, it will make things easier and more uniform.
Download: Employee Performance Review Checklist
X
Your free template will download in
5 seconds
.
Check out this offer while you wait!